Participate
Blog with us!
Share your thoughts, ideas, photos and links on the GPDRR13 Tumblr blog
Resilient Cities events and "Meet the Campaign Mayors" at the 2013 Global Platform
posted: 22/4/2013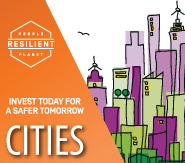 Since its launch in 2010, the Making Cities Resilient Campaign has acted as a vehicle to raise local governments' political commitment to act locally, increase knowledge of disaster risk, invest smarter, and build safer. Today, more than 1,400 local governments have signed up to the Campaign and the Ten Essentials for Making Cities Resilient.

Many cities and local governments participating in the Campaign will be represented at the Fourth Session of the Global Platform for Disaster Risk Reduction.

The following links can be used as a quick guide to events for mayors, local government and Making Cities Resilient campaign partners. This includes a short summary and relevant links to plenary, featured and side events from 20-23 May.

"Meet the Mayors" of the Making Cities Resilient Campaign
From Hoboken, NJ, to Sendai, Japan, this interview series aims to provide a global snapshot of the many actions local governments are taking to reduce disaster risk and strengthen the resilience of their communities. Click on the links below to read these and other stories.
Cities Events Overview GPDRR13
Resumen Eventos Ciudades GPDRR13
Cities Events Overview ARABIC_GPDRR13
Summary of LG recon HFA2
Governments and HFA2
20 May Agenda Prep Meeting & Consultation LGs
FE HFA2 Women Making a Difference
Mayors Lunch Concept Note
Open Debate SEE Mayors
Plenary Private Sector for Resilient Societies Concept Note
FE Urban Planning Concept Note
Interview with Mayor Dawn Zimmer, Hoboken, NJ
Interview with Mayor of Sendai, Japan