Thank-you to our corporate sponsors!

Supporters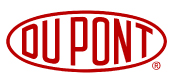 Sponsorship Details for the Global Platform
Sponsorship has its benefits. First, it secures participation in this conference with global leaders. Second, it promotes international visibility as a partner of UNISDR. Third, it affords an opportunity to attend high-level networking events with CEO's and other senior leaders.
Several levels of corporate sponsorship are available offering unique branding and profile opportunities. With each package comes a valuable range of entitlements commensurate with the nature and level of your investment.
Sponsorship can be aligned with specific events or to specific costs. Opportunities for promotion range from sponsoring preparatory meetings or featured events to hospitality.
Packages

Corporate Sponsorship Benefits
Packages can be tailored to meet the interests and proposals of your company.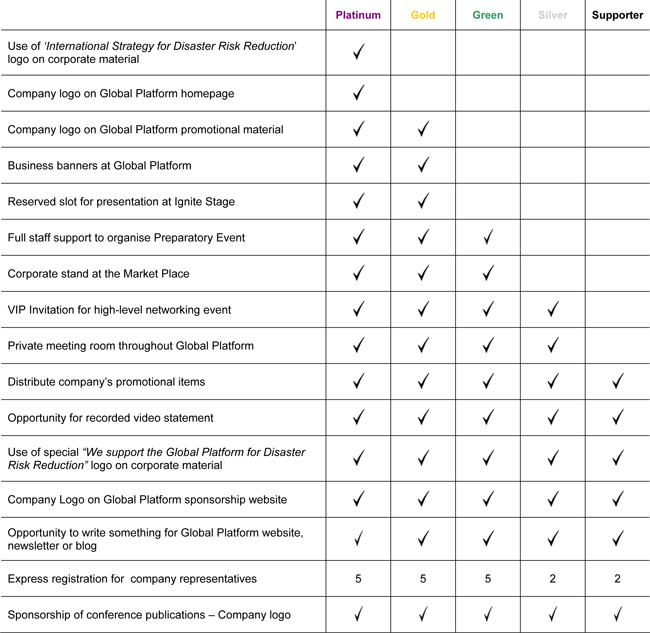 Eligibility
UNISDR reserves the right to review and approve all interested sponsors, ensuring that any financial and content contributions are in line with the integrity of the United Nations. Sponsorship and the programme of the Global Platform are completely independent of each other. Market Place stands are also subject to availability. Speaking slots are not granted to any individual or organisation as a result of, or in return for, sponsorship.
Contact
To discuss sponsorship opportunities and event participation, please contact:
Ms. Kiki Lawal at UNISDR
Phone: +41 22 917 8452
Email: lawalk@un.org