Your experience on PreventionWeb
Please help us improve PreventionWeb by taking this brief survey. Your input will allow us to better serve the needs of the DRR community.
11 October 2021
Vasiti Soko: "What can I do to lay the foundation for other women to succeed in DRR?"
Vasiti Soko is the winner of the 2021 WIN DRR Leadership Award for Excellence in the field of disaster risk reduction. She is the first female Director of Fiji National Disaster Management Office (NDMO). Since she was appointed in 2019, Vasiti coordinated Fiji's response to seven tropical cyclones and the ongoing COVID-19 pandemic. Vasiti has worked to ensure effective inter-cluster coordination with a focus on resource mobilisation, leadership, reporting, information sharing, and inclusion of vulnerable groups. 
For Vasiti, taking the country's lead role in disaster management in 2019, provided the opportunity to make a direct impact in communities across Fiji. "It meant that we could change the policies," she says. "The NDMO can influence decision-makers about changing rules around disasters for the benefit of disaster-prone communities."
As Director she introduced changes that included the introduction of sign language during press conferences, and engaging private sector partners in emergencies, as part of a plan to build an inclusive disaster response network.
"I believe that the Government should not have to work alone, our collaboration with civil society, and other stakeholders before, during and after emergencies will enable us to effectively assist disaster affected communities," says Vasiti.
Being at the helm of the NDMO has enabled Vasiti and her team to improve the level of preparedness across the country. One way they've done this is by making key messages on disasters more accessible "Making them accessible to people living with disabilities, and translating them into the vernacular languages has enabled us to clearly disseminate messages on building back better, food security and psychological support. This helps to ensure that no one is left behind."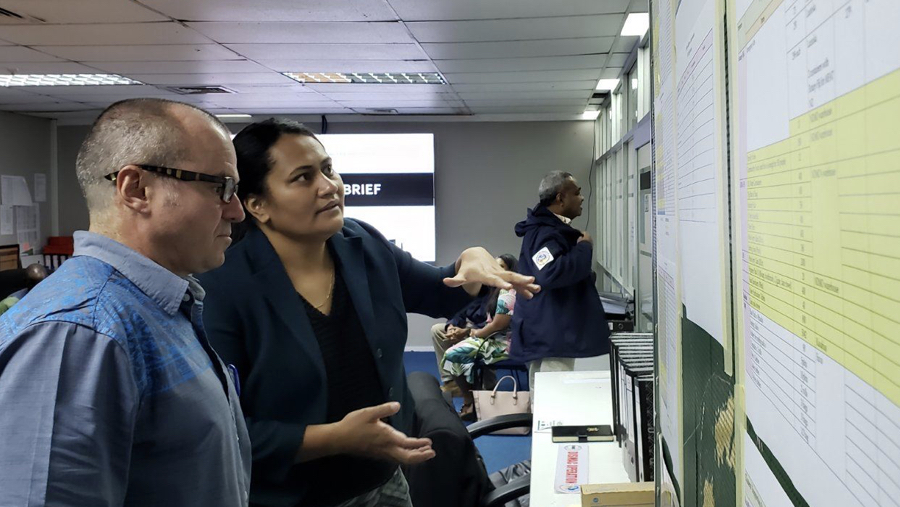 Vasiti says it is critical that vulnerable members of societies can receive messages in real time; and so the NDMO team under her leadership has opened new pathways to communicate with the vulnerable groups. This includes building emergency communication systems that facilitate two-way exchange of information that enables groups and communities to share their feedback. To strengthen community feedback the NDMO and its civil society partners are trialling the "Standardising Community Based Disaster Risk Training", which will facilitate the flow of information and knowledge sharing.
Through this exercise the formation of community disaster committees mobilises communities to engage in preparatory work and support government efforts to respond in the recovery phase. Vasiti and the NDMO team are mining the organisation's archives to enrich their data set on disasters, "I've asked the team to start digitizing all our historical sit-reps. We've been able to identify patterns of tropical cyclones, develop and apply impact base forecasting and identify communities that have been repeatedly exposed to floods or storm surges."
"Science and technology are complementing each other to mitigate disaster risks and the NDMO will work very closely with key government departments to ensure that data is analysed and utilised for effective coordination and response.  This data will also help us to identify training priorities for communities vulnerable to disasters," Vasiti says.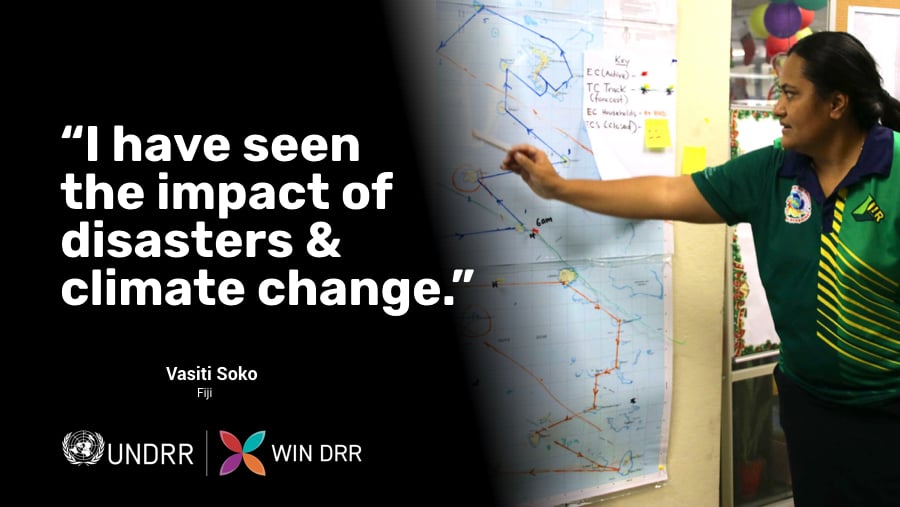 Prior to assuming her current role, Vasiti co-founded the MobileMe project with the Fiji Disabled Peoples Federation. Together they created a mobile application webtool called "MobileMe" which maps facilities on road, pavements, and footpaths to assist mobility for those living with disabilities. Vasiti was drawn to her current role in part because she grew up with a unique view of disaster response. "My father was in the army and was a first responder during times of disaster, he was a role model of sorts for me and I can now relate to the satisfaction he felt when responding to people needing assistance." 
Vasiti has lived experience of disasters, "I've seen firsthand the impact of disasters and climate change. I experienced many cyclones and floods that caused widespread damage and affected the lives of many communities, and this motivated me to try and make a difference if I ever got the opportunity."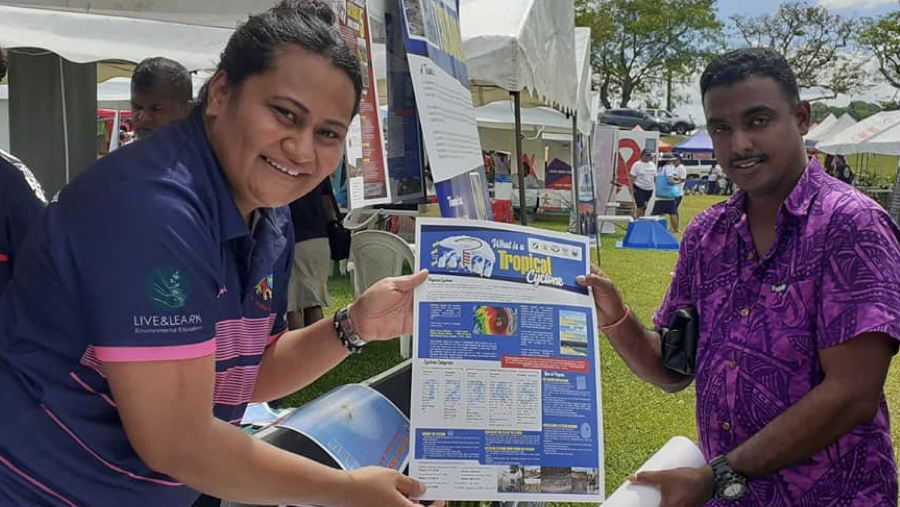 Vasiti is married to a medical doctor and they have four children. She values her family and has been able to further her career with their support. In her spare time Vasiti helps run a charity organisation that addresses stigma about menstruation called "Veinanumi" (itaukei for considering the needs of others). Working with four women, the organisation collects and distributes disposable and reusable sanitary napkins to rural women and girls across Fiji.  In 2020, the group also donated seedlings to support food security for families that were impacted by COVID-19.
Vasiti has a background in geo-science and data analysis and authored the first Pacific Women in Geospatial Science magazine, in support of STEM and to encourage girls to explore science. Working in the male-dominated field of disaster response and management has not deterred Vasiti, "I think it has inspired me, I often think about why women have not ventured into this space and what can I do to lay the foundation for other women to enter and succeed in this field. "Everyone is given an opportunity to make a difference, I encourage them to start small and do it from the heart. Doing our part well will have a ripple effect which will touch the lives of many in our community."
Learn more
---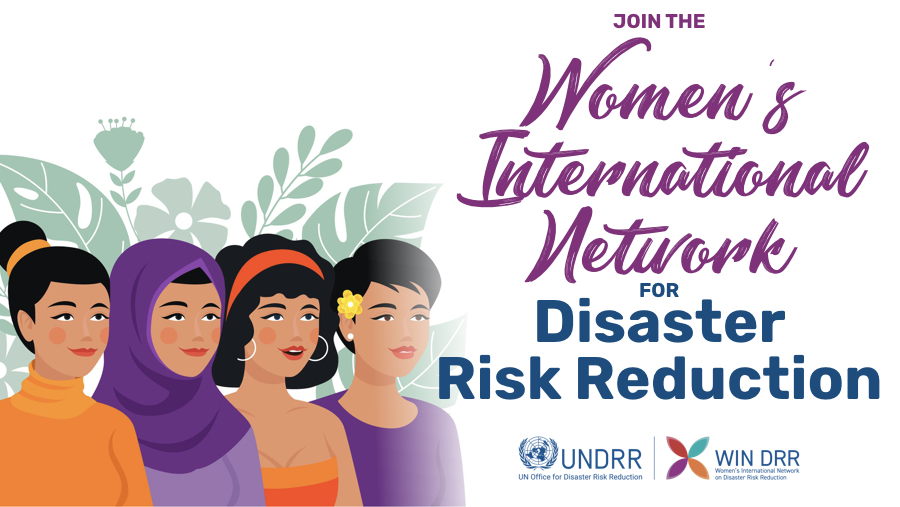 The Women's International Network on Disaster Risk Reduction (WIN DRR) is a professional network to support women working in disaster risk reduction, in all their diversity. WIN DRR promotes and supports women's leadership in disaster risk reduction across the Asia Pacific region, and aims to reduce the barriers faced by women and empower them to attain leadership and enhance their decision-making in disaster risk reduction. WIN DRR is supported by UNDRR and the Government of Australia.
Please note: Content is displayed as last posted by a PreventionWeb community member or editor. The views expressed therein are not necessarily those of UNDRR, PreventionWeb, or its sponsors. See our terms of use