Mission
1. "Developing a highly proficient mechanism for preventing, mitigating, responding to, recovering, securing, monitoring and responding in a timely manner in order to promote management of natural and man-made disasters including volcanic activity, earthquakes, floods, landslides, mudslides, storms, fire and drought;
2. Developing a pro-active refugee policy and a mechanism for the management and protection of Rwandan and foreign refugee which permits development of a strategic response to the problems of refugees, in conformity with national laws and international treaties."
Disaster Reduction Goal
1. To Develop and implement sound DRR policies through effective disaster risk reduction , and management strategies and contribute to poverty reduction and sustainable development, particularly among the most vulnerable communities as outlined in the country's Vision 2020, the Economic Development and Poverty Reduction Strategies (EDPRS) as well as in the 7 years Government Programme (2010-2017).
2. To strengthen institutions capacities and coordinate mechanisms in all DRR sectors and stakeholders, including all institutions, including Ministries ,civil society organizations, international organizations, private sector and the local community.
3. To enhance disaster preparedness for effective response at all levels and ensure alignment to national, and local Disaster Management Plans through broad dissemination, regular testing and updates
Policies and Programmes in DRR
The National Disaster Management Policy has been in place since 2009. Its revised version was finalized and submitted to Cabinet in July 2012 and approved in November 2012.
The National Disaster Management Policy 2012 aims at establishing the guiding principles and architecture for Disaster Management in Rwanda. In particular establishing a legal and institutional framework for the management of disasters and ensuring that institutions and disaster risk management activities are coordinated and focused to foster participatory partnerships between the Government and stakeholders
The National Disaster Management Policy has put in place a coordination platform called the National Platform for Disaster Risk Reduction (NPDRR) composed of line Ministry focal points for Disaster Management and all organizations playing a significant role in Disaster Management.
The NPDRR is chaired by the Minister of Disaster Management and Refugee Affairs and co-chaired by the United Nations Resident Coordinator.
The Ministry of Disaster Management and Refugee Affairs has developed a guideline on Gender in Disaster Management with the aim of mainstreaming gender in Disaster Management strategies, plans and programs.
The Government has started to implement a comprehensive approach to develop local Disaster Management bodies. Currently First Respondent Teams are being established in all sectors, District Disaster Management Officers are deployed in 7 Districts prone to disasters, and there are initiatives to deploy District Disaster Management Officers in all the 30 Districts of Rwanda. DRR clubs are being established in Secondary Schools.
Making disaster risk reduction a policy priority, institutional strengthening (HFA 1)
The Ministry of Disaster Management and Refugee Affairs was established in April12, 2010, by the Prime Minister's order with the overall mission of "developing a highly proficient mechanism for preventing, mitigating, responding to, recovering and monitoring in a timely manner in order to promote management of natural and man-made disasters.
There is a decentralized institutional framework for Disaster Management in Rwanda. The National Disaster Management Executive Committee (NDMEC) is the highest Disaster Management decision-making body. It sits at the Cabinet level and is chaired by the Honorable Minister of Disaster Management and Refugees Affairs. District Disaster Management Committees (DDMCs) and Sector Disaster Management Committee (SDMCs) form the local structures of the framework at the district and sector levels respectively (District and Sector are Rwanda Local Decentralized Entities).
Some institutions at National level have developed their own DRR strategies, for example The Rwanda Civil Aviation Authority (Security Contingency plan and Aerodrome Emergency Plan), The Ministry of Health ( Integrated health Emergency Contingency Plan, Terms of Reference and Composition of Health Sector Emergency Preparedness and Response Committee). The Ministry of Agriculture has set up measures to deal with Food Security issues, strategic stores are in place to be utilized during emergency situation.
The Ministry of Disaster Management and Refugee Affairs (MIDIMAR) has partnered with One UN Rwanda in the implementation of various DRR projects focusing on Capacity building, Disaster Communication system. The World Bank and the European Union have also partnered with the Ministry in the implementation of a large scale DRR project known as "Evidence-based Comprehensive National and District Disaster Risk Analysis in Rwanda.
Risk assessment and early warning systems (HFA 2)
An Evidence-based Comprehensive National and District Disaster Risk Analysis Project has been designed and joint funding from World Bank and European Union has been approved through the Global Facility for Disaster Reduction and Recovery (GFDRR). The project is expected to produce a multi-hazard national risk assessment and a national risk profile atlas (Rwanda Risk Profile Atlas).
The Ministry of Disaster Management and Refugee Affairs has put in place a system to monitor, store and disseminate hazards and vulnerability information. The Disaster Management and Communication System is at its final phase of development and will be used to provide relevant information to stakeholders for decision making. The system is expected serve as an effective communication system in disaster situation whereby prompts alerts will be received and disaster related data will be collected, processed and disseminated.
The Ministry has also used all kinds of media and information technology in information dissemination, including the radio, TV talk show, Newspaper, website and social networks such as the Facebook and Twitter.
The message is provided in both local and English languages to ensure it reaches the target audience.
The Ministry of Agriculture has also put in place a food security monitoring and disease surveillance structure and conduct regular surveys.
The Ministry of Health has setup a disease reporting system which issues outbreak alerts. The Ministry has also established community policing at all levels as a reporting channel.
The Rwanda Meteorological Agency on the other hand collects monitors and disseminates weather forecasts result to relevant Ministries and stakeholders for decision making and to the public for awareness purposes.
The Rwanda Meteorological Agency (RMA) monitors the prevailing weather condition and disseminates weather forecasts information to various users. The information is used to predict possible droughts and floods and thus facilitates preparedness activities in the event of extremes weather events.
RMA also links with IGAD Climatic Prevention and Application Centre (ICPAC) as a Regional Body in charge of monitoring and assessing the state of climate using climate diagnostics and modeling techniques and disseminate warning predictions to its member states, Rwanda included.
The Ministry of Health (MoH) also issues regular updates on disease outbreaks and work closely with the World Health Organization in the disease notification system. The MoH has established surveillance information and disease notification systems known as Integrated Disease Surveillance and Response or "eIDSR" which assists the country to prepare for possible disease outbreaks and to inform the citizens of disease occurrence inside and outside the Rwandan borders.
Rwanda is involved in the East African DRR initiative through which Disaster Risk and Management Strategy is under development, at its completion will address EAC Region DRR issues.
The Ministry of Disaster Management and Refugees is also a registered and active member of the Regional Disaster Management Centre for Excellence, a regional centre with a vision of enhancing Disaster Risk Reduction, impacting on safety, security and sustainable development and which comprises various Participating States among them Burundi, The DRC, Djibouti, Egypt, Eritrea, Ethiopia, Kenya, Rwanda, Seychelles, Tanzania and Uganda.
Education, information and public awareness (HFA 3)
The Ministry of Disaster Management and Refugee Affairs has put in place a Disaster Management Communication System that will be providing relevant information to stakeholders for decision making.
The Ministry has also a website and produces on a regular basis Radio and TV talks and publicity which are aired countrywide in local language and English as well.
The Ministry of Disaster Management and Refugee Affairs (MIDIMAR) has developed a Disaster Management Module for Secondary Schools. The module is integrated in the curricula as General Paper and is dedicated to the top 3 level of secondary school in Rwanda (Secondary 4, Secondary 5 and Secondary 6).
The Ministry has also conducted training of teachers across the country whereby 160 teachers were trained in DRR. Regular trainings are also conducted for the staff of the Ministry and the local structures, the District Disaster Management Committees and Sector Disaster Management Committees at the District and Sector levels respectively.
The Ministry of Disaster Management and Refugee Affairs has been actively involved in public awareness activities countrywide through workshops, trainings and public awareness campaigns in targeted vulnerable districts. Publicity spots and place in most disaster prone districts and Broadcasting contents are aired on a weekly basis and in the local language to ensure the message reaches its target audience.
The International Day for Disaster Reduction also provides a platform for reinforcing information sharing initiative on national and local levels.
Two universities are known to be offering Disaster Management courses; Mount Kenya University- Rwanda and the Independent Institute of Lay Adventists of Kigali. ( In addition, the National University of Rwanda under the School of Public Health offers graduate and post graduate courses in Public Health and Epidemiology).
Reducing underlying risk factors (HFA 4)
Rwanda has a National Social Protection Strategy with a global objective of (a) building a social protection system that tackles poverty and inequality, enables the poor to move out of poverty, helps reduce vulnerability and protect people from shocks, (b) helping improve health and education among all Rwandans, and contributes to economic growth.
The Rwanda's Vision 2020 Umurenge program is a component of the National Social Protection Strategy which has contributed to the country's recent decline in poverty. The program identifies the poorest people in the poorest sectors, offers labor-intensive work, credit to small businesses, and cash transfers and assets such as livestock to those who cannot work.
The government also pays for health insurance for the poorest people in the country. Together with other programs to do with agriculture and job creation, the Vision 2020 Umurenge program has contributed to very good results between 2006 and 2011.
In an effort to help prevent farmers from losing income to bad weather, the Ministry of Agriculture and Animal Resources (MINAGRI) is conducting a study on agriculture insurance. The study is intended to provide a guide, which will be used by companies seeking to offer commercial agriculture in¬surance for crops. It is expected that once the service is available, farmers will not only gain more confidence in planting, but also have easier access to credit.
Environmental protection laws and policies exit and are used to protect the environmental base upon which the economic and productive sectors depend. There are also laws and regulations for the transport industry pertaining to safety and the transportation of hazardous materials by road, air and water. New investments are regulated to ensure they are located in safe areas and do not create new vulnerabilities.
There are also insurance, trade and finance regulations to protect economic investments in Rwanda. Most of these activities are not classified however, as DRR initiatives.
The Rwanda Cabinet in 2009 adopted the Building Control Regulations as a nationally recognized document serving as a standard reference for the regulation of building design and construction. The document seeks to harmonize the professional practice in the construction industry and curtail informal developments so as to ensure well planned, well-maintained, safe, cost effective and decent building developments and housing settlements throughout the country. I addition to that an instruction sheet on construction was developed in order to address gaps related to in existing building regulations.
The Ministry of Infrastructure (MININFRA) has also aligned in its National Human settlement policy (2009) risk reduction considerations but the sensitization to relevant ministries and departments to incorporate DRR in their plans and policies is not enough.
Environment Impact Assessments (EIA), Environmental Audit (EA) and Strategic Environmental Assessment (SEA) are applied to infrastructure development projects as an effort to reduce disaster risks. Reports are displayed, discussed and shared.
Preparedness for effective response (HFA 5)
The Ministry of Disaster Management and Refugee Affairs (MIDIMAR) has put in place various tools, among them the National Disaster Management Plan, a revision of the National Disaster Preparedness and Contingency Plan 2009, Guideline on Gender in Disaster Management, the National Disaster Risk Reduction Policy,
MIDIMAR has developed a 5 Years Strategic Plan 2012-2017 with clear objectives in line with the five priorities of the Hyogo Framework for Action.
School safety has always been considered by the Ministry and so far 240 teachers have been trained in DRR, Few drills have been organized.
The Ministry of Disaster Management and Refugee Affairs (MIDIMAR) has also been very proactive in setting up First Respondent Teams across all districts and also a dedicated training has been scheduled for them.
MIDIMAR in partnership with the World Food Programme (WFP) has established warehouses for relief supplies both at national and district level.
The Ministry of Disaster Management and Refugee Affairs (MIDIMAR) has a budget established for response and recovery activities. In addition to that, MIDIMAR may receive additional response fund from Government for emergency. A procedure for disbursement of this fund may be activated once a state of emergency has been declared.
Making Cities Resilient Campaign Activities
On 19th of October 2011, The Ministry of Disaster Management and Refugee Affairs and the UN Habitat signed an agreement of cooperation which laid down various activities in line with the Making Cities Resilient Campaign. The signed agreement provided an avenue to support local governments in Rwanda to build resilience to disasters. Among the activities conducted included the sensitization and capacity-building campaigns. The objectives pursued under the agreement of cooperation included;
1) Help local authorities in Rwanda to become more resilient
2) Find ways to operationalize at the local level elements of the "10 point checklist" that serves as the basis of the UNISDR's Making Cities Resilient Campaign
3) Identify a role and practical mechanisms for the local government sector to participate in the National Platform on DRR for Rwanda
4) Capture lessons and disseminate information to the broader disaster risk reduction community
Disaster Risk Reduction Focal Point(s)
RUVEBANA Antoine,
Permanent Secretary,
Ministry of Disaster Management and Refugee Affairs
Websites
http://www.midimar.gov.rw
http://www.primature.gov.rw
http://www.emdat.be/result-country-profile
http://www.rema.gov.rw/
Blue Star House, Kacyiru 4386 Kigali Rwanda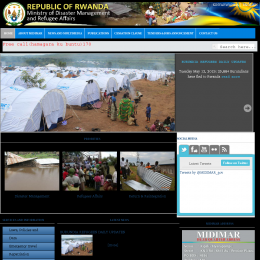 Badges