Mission
The Center for Disaster and Emergency Management (CEDEM) is an independent institution for training, consultancy and research in the areas of disasters, emergencies, international development and humanitarian aid.
Our courses are delivered in Madrid and overseas, in English or Spanish, by highly experienced professionals.
Disaster Reduction Goal
Use knowledge, innovation and education to build a culture of safety and resilience at all levels and strengthen disaster preparedness for effective response at all levels.
Education, information and public awareness (HFA 3)
We deliver courses in English and Spanish, on-site and on-line about disaster management, disaster risk reduction and international development.
C/San Juan 1 28742 Lozoya-Madrid Spain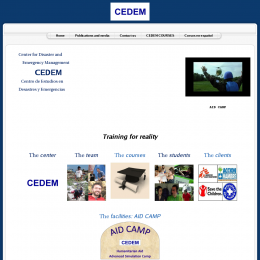 Badges