Mission
NADMO is coordinating the resources of government institutions to develop the capacity of voluntary community - based organizations to respond effectively to disasters or similar emergencies. It is responsible for the management of areas affected, for the rehabilitation of concerned people and to provide for related matters.
Disaster Reduction Goal
NADMO objectives are to focus on preventive aspects of disasters as a means of reducing the effects of their occurrence on society; to set up a monitoring system to aid the identification of disasters in their formative stages with the capacity to disseminate same for public consumption and awareness sensitisation; and to seek legislative empowerment for the organisation to enforce and prevent disasters.
Parliament House, OSU - Accra Ghana +233 Accra Ghana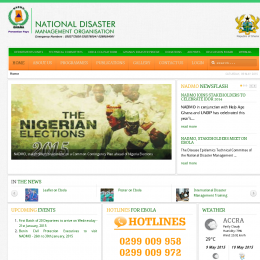 Badges
Conferences:

- UNISDR Science and Technology Conference
- 2017 Global Platform
- 2019 Global Platform