Mission
EERI is a national, non-profit, technical society of engineers, geoscientists, architects, planners, public officials, and social scientists, including researchers, practicing professionals, educators, government officials, and building code regulators. EERI aims to reduce earthquake risk by advancing the science and practice of earthquake engineering; by improving understanding of the impact of earthquakes on the physical, social, economic, political, and cultural environment; and by advocating comprehensive and realistic measures.
Disaster Reduction Goal
A world in which potential earthquake losses are widely understood and in which prudent steps have been taken to address those risks.
Policies and Programmes in DRR
*Learning from Earthquakes Program; *Concrete Coalition;
*Confined Masonry Network; *World Housing Encyclopedia; *Earthquake Scenario Promotion and Development; *Friedman Visiting Professionals; *The Mitigation Center
Membership in Key Networks
*NEHRP (National Earthquake Hazards Reduction Program) Coalition, *International Association for Earthquake Engineering (IAEE); *Consortium of Organizations for Strong-Motion Observation Systems (COSMOS); *California Earthquake Clearinghouse
Making disaster risk reduction a policy priority, institutional strengthening (HFA 1)
*Concrete Coalition;
*Confined Masonry Network;
*Earthquake Scenario Promotion and Development;
*NEHRP (National Earthquake Hazards Reduction Program) Coalition
Risk assessment and early warning systems (HFA 2)
*Learning from Earthquakes Program
*Concrete Coalition;
*World Housing Encyclopedia;
*Earthquake Scenario Promotion and Development;
Education, information and public awareness (HFA 3)
*Earthquake Spectra Journal;
*EERI Newsletter;
*Learning from Earthquakes Program
*World Housing Encyclopedia;
*The Mitigation Center
*Friedman Visiting Professionals
*Concrete Coalition;
*Confined Masonry Network;
*Earthquake Scenario Promotion and Development;
*Oral History Series
*Sponsorship of conferences and seminars
Reducing underlying risk factors (HFA 4)
*Learning from Earthquakes Program
*Concrete Coalition;
*Confined Masonry Network;
*Earthquake Scenario Promotion and Development;
Preparedness for effective response (HFA 5)
*Learning from Earthquakes Program
*Concrete Coalition;
*Confined Masonry Network;
*Earthquake Scenario Promotion and Development;
*California Earthquake Clearinghouse
Disaster Risk Reduction Focal Point(s)
Earthquake-resistant construction and its promotion in public policy
Websites
http://www.eeri.org
https://www.eeri.org/projects/learning-from-earthquakes-lfe/lfe-reconnaissance-archive/
http://mitigation.eeri.org/
http://www.nehrpscenario.org/ http://www.californiaeqclearinghouse.org
http://www.concretecoalition.org/ http://www.confinedmasonry.org/
http://www.world-housing.net/
499 14th Street, Suite 220, CA 94612-1934 Oakland, California United States of America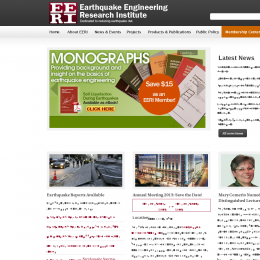 Badges