Mission
Sewa Development Trust Sindh (SDTS) is a not-for-profit organization of Sindh that was founded by a group of development, social and human rights activists in June-2002. SDTS works with community development and aims to empower people by providing the opportunities and basic facilities to develop the leadership skills, social responsibility and fellowship necessary to create positive changes.
Disaster Reduction Goal
To build capacity of people and most disaster vulnerable communities especially and aware them to combat with natural disaster and follow DRR techniques to prevent more loses.
Policies and Programmes in DRR
SDTS published DRR publication (hand outs) in local language to aware Sindhi communities about DRR. Developed group of trained young volunteers with DRR technique training.
Membership in Key Networks
- UNECOSOC
- International Alliance of Inhabitants-IAI
- UN Global Compact
- National Humanitarian Network -NHN Sindh
- Habitat International Coalition-HIC
- Safe world for Women International-UK
Making disaster risk reduction a policy priority, institutional strengthening (HFA 1)
Developing a Disaster Risk Reduction policy in the organisation.
Risk assessment and early warning systems (HFA 2)
With collaboration of district government, Provincial disaster Management Authority and National disaster management authority and metrological department issued assessment and early warning, the same share with the communities.
Education, information and public awareness (HFA 3)
SDTS developed and published Information, Education and Communication (IEC) material in local language for awareness raising among communities and disseminated widely.
Reducing underlying risk factors (HFA 4)
To reduce the underlying factors, information and focal group discussion are made to local adaptation for plan of action is developed.
Preparedness for effective response (HFA 5)
A group of 700 young people trained in DRR technique training and are prepared for effective response very quickly.
Other activities
Conduct and organise training in association with IMMAP Pakistan and USAID for DRR awareness and preparedness. Working with LEAD Pakistan for climate change adaptation and resilience program.
Disaster Risk Reduction Focal Point(s)
The focal person for the DR is Mr. Zahid Hussain based in SDTS head office.
The area of disaster reduction are:
- North Sindh (Kashmore, Khairupr, Ghotki, Qambarshadadkot)
- South Sindh (Mirpurkhas, Tando Allahyar, Thatta)
Websites
http://www.sewatrust.org
http://www.nhnsindh.net/clients.php
https://www.facebook.com/pages/Sewa-Development-Trust-Sindh/148553275228902?ref=hl
http://unglobalcompact.org/participant/29481
http://www.asafeworldforwomen.org/partners-in-pakistan/sdts.html
A-3, Third floor, Civic Centre, Khairpur Mirs - Sindh 66020 KHAIRPUR Pakistan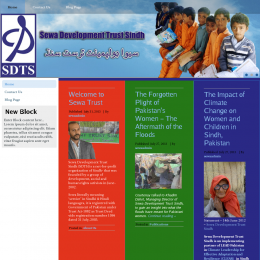 Badges