3.3 Drought impacts
Drought losses and impacts are systematically reported in only a few countries, even though there are clear and significant impacts on agricultural production, rural livelihoods, and urban and economic sectors. Droughts also contribute to migration, conflict and ecosystem decline.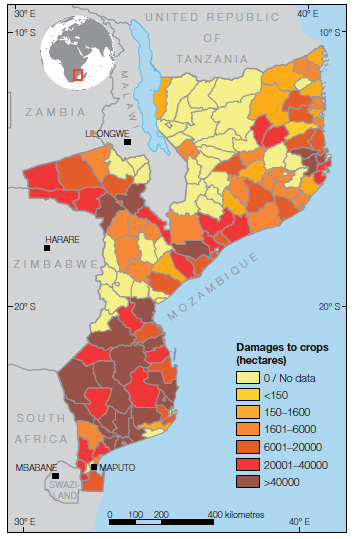 In internationally reported droughts since 1900, more than 11 million people have died with over 2 billion affected (
EM-DAT, 2010b
Global "number killed" and "number affected" by drought between 1900–2009. Brussels, Belgium: Université Catholique de Louvain.
.
), more than by any other single physical hazard.
Most of the drought-related mortality recorded in EM-DAT, however, occurred in countries also experiencing political and civil conflicts. Also, since the 1990s, internationally recorded drought mortality has been negligible, with only 4,472 fatalities from 1990 to 2009 (
EM-DAT, 2010b
Global "number killed" and "number affected" by drought between 1900–2009. Brussels, Belgium: Université Catholique de Louvain.
.
). Drought impacts are poorly recorded internationally. Reasons include the lack of visible damage outside of the agriculture sector, the high proportion of indirect losses compared to direct losses, and the highly complex nature of drought mortality, which is highly livelihood-dependent (
Below et al., 2007
Journal of Environment and Development16: 328–344.
.
).
Due to the absence of systematic data, it is impossible to provide a global assessment of patterns and trends in drought impacts and loss. Available evidence, however, provides a good indication of the magnitude and inter-relatedness of impact on mortality, rural livelihoods, food security, agricultural production, economic and urban development, migration, conflict, the environment and public spending (Table 3.2).
Mortality and well-being
Internationally, drought mortality risk is currently severely under-recorded, and drought mortality may be significantly higher than reported, with many fatalities going unrecorded or attributed to other causes. For example, in Mozambique only 18 deaths were reported internationally between 1990 and 2009. In contrast, Mozambique's disaster loss database recorded 1,040 deaths for the same period (EM-DAT, 2010bINGC, 2010

Poor rural households with livelihoods that depend on rain-fed agriculture are more vulnerable to drought and less able to absorb and buffer the losses. Consequences include increased poverty, reduced human development and negative impacts on health, nutrition and productivity (de la Fuente and Dercon, 2008UNISDR, 2009Rathore, 2005
Rural livelihoods, food security and agricultural production
In the Caribbean, the 2009–2010 drought saw the banana harvest on Dominica reduced by 43 percent, agricultural production in Saint Vincent and the Grenadines 20 percent below historic averages, and onion and tomato yields in Antigua and Barbuda decline by 25–30 percent.

Australia experienced losses of US$2.34 billion during the 2002–2003 drought, reducing national GDP by 1.6 percent. Two thirds of the losses were agricultural, the remainder attributed to knock-on impacts in other economic sectors (Horridge et al., 2005

During the 2002 drought, food grain production in India dropped to 183 million tonnes, compared to 212 million tonnes the previous year (Shaw et al., 2010

In the 2007–2008 drought in the Syrian Arab Republic, 75 percent of the country's farmers suffered total crop failure, and the livestock population was 50 percent below the pre-drought level more than a year after the drought ended (Erian et al., 2010

Mozambique is one of the few countries with a disaster database that systematically records drought losses (INGC, 2010
Urban and economic development
Droughts reduce water supplies for domestic and industrial use, and for power generation, affecting cities and non-agricultural sectors of the economy. During the 1991–1992 drought in Zimbabwe for example, water and electricity shortages and a decline in manufacturing productivity of 9.5 percent resulted in a 2 percent reduction in export receipts (Robinson, 1993Benson and Clay, 1998Benson and Clay, 1998

In 2008, a severe drought in the south-eastern United States of America threatened the water supplies for cooling more than 24 of the nation's 104 nuclear power reactors. The 2003 European drought and heat wave reduced France's nuclear power generation capacity by 15 percent for five weeks and also led to a 20 percent reduction in the country's hydroelectric production (Hightower and Pierce, 2008Mestre, 2010
Migration
Droughts are associated with migration. In the Syrian Arab Republic, a million people left rural areas for cities after successive crop failures from 2007–2009 (Erian et al., 2010Neri and Briones, 2010

In Rajasthan, India, droughts regularly lead to forced migration, increased debt and borrowing, reduced food consumption, unemployment and poorer health (Rathore, 2005

Migration leads to changing household decision-making patterns, often resulting in an increase in female-headed households. Case studies from Jordan and Lebanon show that family dynamics and women's public roles may also change significantly as a result of drought-associated migration (Erian et al., 2010
Conflict
Droughts contribute to the likelihood of conflict by causing displacement and migration, increasing competition for scarce resources and exacerbating ethnic tensions, and by encouraging poor rural farmers to join armed resistance groups (Barnett and Adger, 2007Reuveny, 2007Reuveny, 2007

A 1,100-year analysis of drought in equatorial East Africa found evidence of droughtinduced famine, political unrest and large-scale migration during the six centuries before 1895 (Verschuren et al., 2000Neri and Briones, 2010Swearingen, 1992Reuveny, 2007
Environment
Droughts affect habitats, bodies of water, rivers and streams, and can have major ecological impacts, increasing species vulnerability and migration, and loss of biodiversity (Lake, 2003NDMC, 2006Shaw et al., 2010Silliman et al., 2005Mestre, 2010
Public spending
Downstream impacts indicate increased competition and conflict between different sectors of water users and a need for increased government spending on relief and compensation. In Andhra Pradesh, India for example, rice irrigation increasingly relies on pumped groundwater. As energy for pumping is subsidized by the government, this results in even lower groundwater levels, and rice cultivation also drains state funds and contributes to periodic blackouts (Lvovsky et al., 2006

Overcoming drought: Adaptation strategies for Andhra Pradesh, India. Washington DC, USA: The World Bank.
.

). The cost of food and non-food assistance provided in response to the 1991–1992 drought in ten southern African countries exceeded US$950 million, and during the 2007–2009 drought in Kenya, 70 percent of the population of one region depended upon food aid (Holloway, 1995

Humanitarian Exchange Magazine. September 1995: 5–7.
.

; Galu et al., 2010

Galu, G., Kere, J., Funk, C. and Husak, G. 2010.

Case study on understanding food security trends and development of decision-support tools and their impact on vulnerable livelihoods in east Africa.

Background paper prepared for the 2011 Global Assessment Report on Disaster Risk Reduction. Geneva, Switzerland: UNISDR.

Click here to view this GAR paper

.

).
Note