blog
Progress in policy to...
Progress in policy to address disaster displacement in Asia and the Pacific
16 September 2022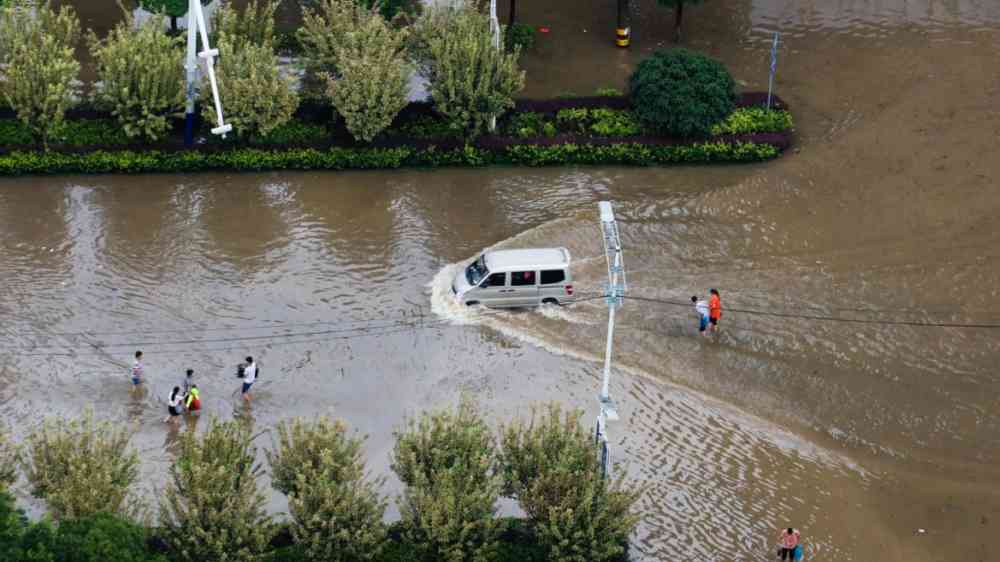 Promising examples of policies to address disaster displacement are emerging in Asia and the Pacific. Now is the time to galvanize action and deliver on policy goals.
Asia and the Pacific is the region most affected by disaster displacement worldwide. Disasters triggered over 225 million internal displacements in the region during 2010−2021, which represents over three-quarters of the global total for this period. This is according to a new joint report by the Asian Development Bank (ADB) and the Internal Displacement Monitoring Centre (IDMC), which provides the latest evidence on the scale and impacts of disaster displacement in the region, and makes the case for investments in prevention and solutions.
To understand what is being done to address this phenomenon, IDMC, supported by the international law firm DLA Piper, reviewed legal and policy frameworks on displacement linked with disasters and climate change in 14 countries in the region.[1] The majority of these countries recognise internal displacement linked with disasters in their frameworks. Some have developed specific policies on displacement, while others have included provisions on displacement in their disaster risk reduction and management frameworks, climate change policies and other legislation.
Key findings
Twelve out of 14 countries have introduced measures targeted at preventing displacement in their policy and legal frameworks. For example, the People's Republic of China has enacted a flood prevention law that identifies the plans and responsibilities of government authorities for flood control and prevention, including through land management. The Torres Strait regional adaptation and resilience plan for 2016-2021 recognises displacement as one of the impacts of climate change, sea level rise and extreme weather events. It maps out pathways to strengthen community resilience and reduce displacement risk through hazard mapping, housing and building design, and relocation as a last resort.
Several countries have instituted measures to respond to displacement in their frameworks, but only five have included measures to mitigate its negative impacts on other groups, such as host communities. Vanuatu's national policy on climate change and disaster-induced displacement is a key example in this respect, with one of the most comprehensive policies in the region. It provides a common framework to provide multi-sectoral assistance to all people affected by displacement, especially women, children, older people and those with disabilities.
Twelve out of 14 countries have incorporated measures to support displaced groups to find durable solutions to their displacement, including through permanent relocation or integration into new areas. Indonesia's law concerning disaster management promotes durable solutions for displaced people and addresses consequences for non-displaced people through efforts to reduce social conflict and tension in disaster-affected communities. The law also mandates the national disaster management agency (BNPB) to collect accurate data on disasters. This led the BNPB and national statistics office to develop Indonesia One Disaster Data, which covers data management and statistics on disaster risk, occurrence, impacts and recovery, and financing of disaster management activities. It is one of the main sources of information on disaster displacement and provides timely primary data that can be shared between ministries, agencies and local governments.
Adressing policy gaps and galvanizing action
The legal and policy developments in Asia and the Pacific are encouraging and can inform policymakers across the globe. Further measures and resources are needed, however, to address the drivers and negative impacts of displacement and reduce displacement risk. Strengthening the collection and use of displacement data is essential for evidence-based policymaking, but few frameworks include measures to improve systematic data collection and monitoring of disaster displacement.
Beyond its humanitarian impact, disaster displacement is a development issue. If unaddressed, it can widen socioeconomic disparities, with those most vulnerable pushed even further behind. The record-breaking rainfall in Pakistan is a reminder of the devastating impacts of displacement and the urgent need for preventative action across the region. This will require tailored approaches to confront the challenges posed by poverty and inequality, unsustainable urbanisation and climate change, all of which contribute to displacement risk.  
As governments in the region face compounding crises and continue to grapple with the effects of the Covid-19 pandemic, maximising funds and working collaboratively to deliver on policy goals and ensure investments are strategic and effective will be more necessary than ever before.
The Asia-Pacific Ministerial Conference on Disaster Risk Reduction taking place in Brisbane from 19-22 September provides an opportunity for Member States from the region, intergovernmental, international, and national stakeholders to recognise disaster displacement as a key element of disaster risk reduction and lead the way in addressing the issue.
As the region most affected by disaster displacement, Asia and the Pacific has the most to gain from preventing displacement and reducing its impacts.
See here for further findings of the policy review and detailed analysis of the last decade of disaster displacement in Asia and the Pacific. Promising policies to address internal displacement are also featured in IDMC's Global Repository of Good Practices.
---
Louisa Yasukawa is a Researcher Internal Displacement Monitoring Centre based in Geneva, where she focuses on the socioeconomic impacts of internal displacement. She is a qualified lawyer from Australia and holds a master's degree in Refugee and Forced Migration from the University of Oxford. 
Austyn Campbell is a pro bono solicitor at DLA Piper, a global law firm with lawyers located in more than 40 countries throughout the Americas, Asia Pacific, Europe, Africa, and the Middle East. Based in the firm's Brisbane office, she is presently completing her master's degree in international law and International Relations, with a current focus on international crisis management.
---
[1] Australia (including the Torres Strait Islands), the People's Republic of China, Fiji, India, Indonesia, Japan, Malaysia, Nepal, New Zealand, Papua New Guinea, Singapore, Thailand, Vanuatu and Vietnam.
PLEASE NOTE: CONTENT IS DISPLAYED AS LAST POSTED BY A PREVENTIONWEB COMMUNITY MEMBER OR EDITOR. THE VIEWS EXPRESSED THEREIN ARE NOT NECESSARILY THOSE OF UNDRR, PREVENTIONWEB, OR ITS SPONSORS.
SEE OUR TERMS OF USE