5.3 Tailoring DRM strategies
Governments will need a range of different DRM strategies to address the different risk strata. It may be more cost-effective to reduce the more extensive risks using a mix of prospective and corrective risk management strategies. For some of the more intensive risks, corrective disaster risk management will not be cost-effective, although compensatory risk management could address them through insurance, reinsurance, transfer to capital markets, and contingent financing.
5.3.1 Identifying risk strata
Governments typically have three strategic DRM instruments at their disposal: prospective, corrective and compensatory.
The portfolio of resources and their financial costs are very different for each. By assessing the full spectrum of risks they face, governments will be able to identify the most appropriate and cost-effective DRM strategies for each risk strata. Applying probabilistic risk modelling and cost–benefit analysis to develop a composite profile for each country can assist in defining a pragmatic mix of instruments depending on the economic and development status of a country.
From a risk-financing perspective, there are three possible strategies that a government can adopt to manage disaster risk: retaining the risk, insuring the risk and transferring the risk to capital markets.
The decision how much risk to retain and how much to transfer is ultimately a government policy decision, based on considerations such as the value of the annual average and probable maximum loss, the fiscal space or capacity to invest in risk reduction, social and political acceptance of risk, and access to risk financing.
In general, it is more cost effective for governments to retain rather than insure extensive risks below the level of retention (Figure 5.6). From an insurance perspective, this stratum would normally be considered as a deductible, which governments would have to cover from their own resources.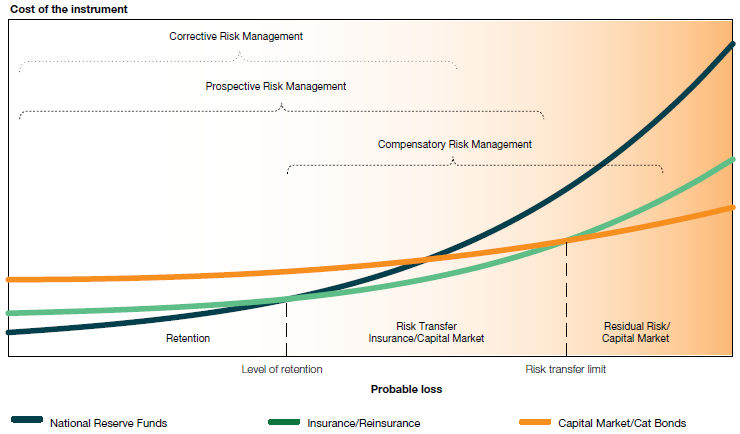 It is more cost effective for a government to transfer intensive risks, between the deductible amount and the risk transfer limit, through insurance, reinsurance and through contingent credit and similar instruments, rather than to retain them. Beyond the risk transfer limit, risks cannot be insured, and can only be transferred to capital markets through instruments such as Cat Bonds, or are residual. Beyond this point, countries are likely to face the range of very low-probability emerging risks as described in Chapter 2.
In Colombia, for example, national insurance regulators have established that all insurers should have reserves, including reinsurance, to cover the probable maximum loss associated with a return period of 1500 years. This would be the risk transfer limit if the insurer decides to establish an excess loss threshold at that level, above which losses are not insured: a probable maximum loss of US$7.6 billion in the case of Colombia (Figure 5.7). If the deductible was established at 1 percent, the government would have to retain probable maximum losses of up to US$1.5 billion and cover annual average losses of approximately US$200 million with its own resources, below the level of retention.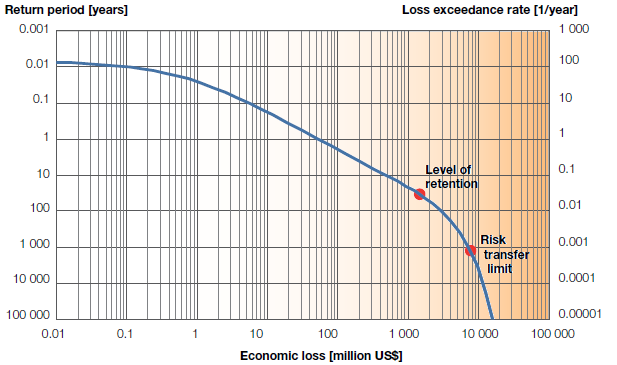 Similar findings are seen in cost–benefit analyses of different climate adaptation options (
ECA, 2009
5.3.2 Compensatory DRM
Many low- and middle-income countries are vulnerable to post-disaster resource deficits. In such circumstances governments have to divert funds from already tight budgets, re-allocate development loans to relief, and/or take on new loans from other states and the international community. Unless special conditions are granted, these sources of post-disaster finance are often slow and too expensive. When governments are unable to mobilize timely resources for recovery and reconstruction, the direct costs and impacts of the disaster can cascade into a range of other negative social and economic outcomes (
Suarez and Linnerooth-Bayer, 2011
Mechler, 2004
Following intensive disasters, a lack of financial liquidity often leads to serious delays in recovery. In Haiti, of the almost US$6 billion pledged for the first two years after the January 2010 earthquake, only about US$0.5 billion or less than 10 percent had been transferred as of August 2010 (
Ferris, 2010
The cost of financial instruments that could address the needs of each of the funding phases varies considerably (
Ghesquiere and Mahul, 2010
Mahul and Skees, 2006
Ghesquiere and Mahul, 2010
Insurance and risk-sharing approaches can enable governments to complement other risk management strategies. They do this by ensuring or accelerating financing for relief, recovery and reconstruction, while at the same time guiding investment decisions that also contribute to reduce risks (
Suarez and Linnerooth-Bayer, 2011
Two factors contribute to the cost of risk transfer: the entry level of risk transfer where the deductible amount is fixed, and the value of risk to be transferred between the deductible amount and the risk transfer limit. The cost of risk transfer can be significantly reduced if governments decide to retain and reduce part of their risk. For example, the cost of risk transfer with a deductible of 1 percent could be only a tenth of the cost of the transfer were no deductible established (
ERN-AL, 2011
In the example of Colombia, using the hybrid curve, the cost of insuring the catastrophic risk between a level of retention of US$1.5 billion and a limit of risk transfer of US$7.6 billion would be calculated at approximately US$30–40 million per year.
New and innovative market-based instruments that promote DRM (
Cardona, 2009
Hess and Hazell, 2009
Marulanda et al., 2010
By 'pricing' not only risk, but also the benefits of risk reduction, insurance instruments provide incentives for DRM. With such contingent insurance policies, a government could, for example, calculate the expected costs of risk reduction for a specific hazard, estimate unavoidable losses and then decide on the premium it can pay.
Other market-based instruments provide built-in incentives and an appropriate pricing of premiums according to previous risk reducing investments (Box 5.6). Whereas these are mostly designed for individual and business customers, the incentive and pricing principles can also be adopted for macro-level schemes.
The prohibitive cost of some insurance and risk financing instruments means that a conservative fiscal policy and the use of contingency funds and contingent lines of credit from development banks may be the most efficient way to deal with intensive risks (Ghesquiere and Mahul, 2010). Insuring a large part of the potential loss is equivalent to multiplying the loss, considering that insurance always costs more than potential loss. The fact that in 2011, only 5 out of 82 countries reporting to HFA on disaster financing mechanisms have issued catastrophe bonds (whereas 41 rely on national contingency funds) is reflective of this.
Unlike insurance and catastrophe bonds, contingent credit ensures access to loans in times of crisis, a safe option for governments with limited post-disaster financing choices. This was the case in Mongolia where, by accessing contingent credit, the government secured liquidity in the aftermath of severe winter storms to provide relief and as a re-insurer to its livestock insurance programme (Box 5.7).
Importantly, contingent credit can be linked to DRM as shown by the World Bank's CAT Deferred Drawdown Option, which requires eligible countries to have a DRM programme in place. The loan may be 'drawn down' after a disaster, unless the government has received prior notification that their DRM programme is not being implemented in accordance with the agreement. The fact that the lines of credit are contingent on the development of DRM strategies means that Ministries of Finance get directly involved in a dialogue on risk reduction.
Different country contexts create different distributions of risk strata, and correspondingly, different 'optimal' portfolios of prospective, corrective and compensatory risk management. For example, in countries with high levels of drought risk and large agricultural economies, such as China, India or Mali, prospective and corrective risk management measures such as irrigation control, improved soil management and improved fertilizer use are less expensive than risk transfer. In the case of small island states threatened by rising sea levels, such as Samoa, relatively low-cost measures such as planting mangroves and using mobile flood barriers are more cost-effective than building sea walls, but risk transfer is the most efficient solution (
ECA, 2009
Notes