2.2.3 Tropical cyclone and flood mortality risk is decreasing
Global vulnerability to flood hazard has decreased since 1990, with South Asia the only region where vulnerability was still increasing during the 1990s (Figure 2.11). Since then, vulnerability has declined in all regions except Europe, Central Asia and the OECD, where it has remained stable. These figures are regional averages and may include individual countries in which vulnerability is increasing. In general, however, the statistics reflect how development has reduced vulnerability and strengthened DRM capacities.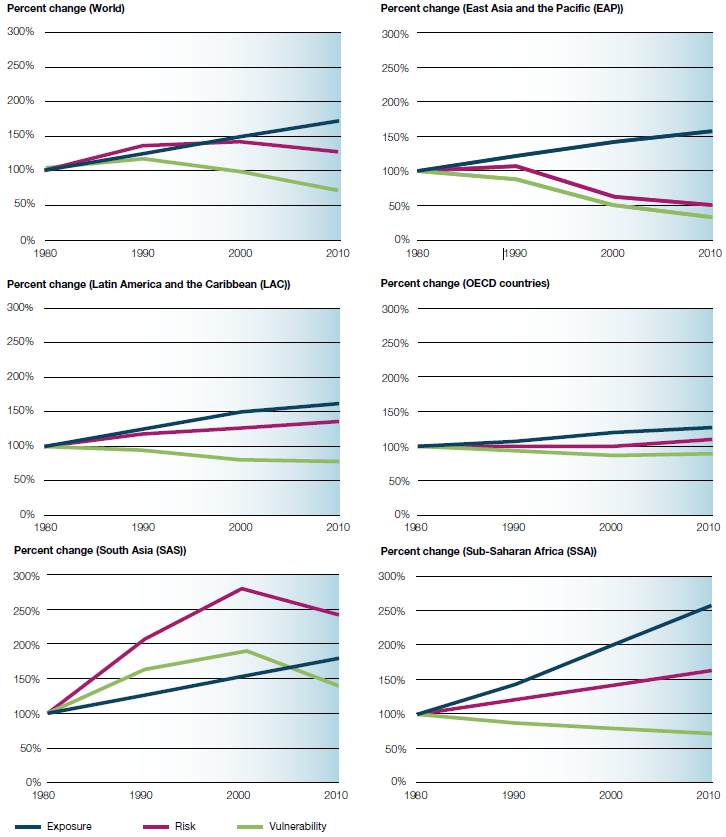 Figure 2.11 also shows that global flood mortality risk was increasing until 2000, but it has subsequently declined and is now lower than in 1990. There are, however, important regional differences. In the Middle East and North Africa, Latin America and the Caribbean, and sub-Saharan Africa, flood mortality risk is still increasing, indicating that growing exposure continues to outpace reductions in vulnerability. The positive global trend is largely determined by Asia, where risk is falling. The major success story has been East Asia and the Pacific, where despite rapidly increasing exposure, flood mortality risk has more than halved since 1990. South Asia is reducing its vulnerability at a much slower pace, meaning that risk in 2010 is higher than it was in 1990 (Box 2.3).
Vulnerability to tropical cyclones has decreased in all regions since 2000 (Figure 2.12). However, even though the vulnerability of low-income countries in 2010 was about 20 percent lower than in 1980, it was still 225 times higher than in OECD countries. The most significant reduction in vulnerability has been in lowermiddle- income countries, where vulnerability in 2010 was less than half that in 1980.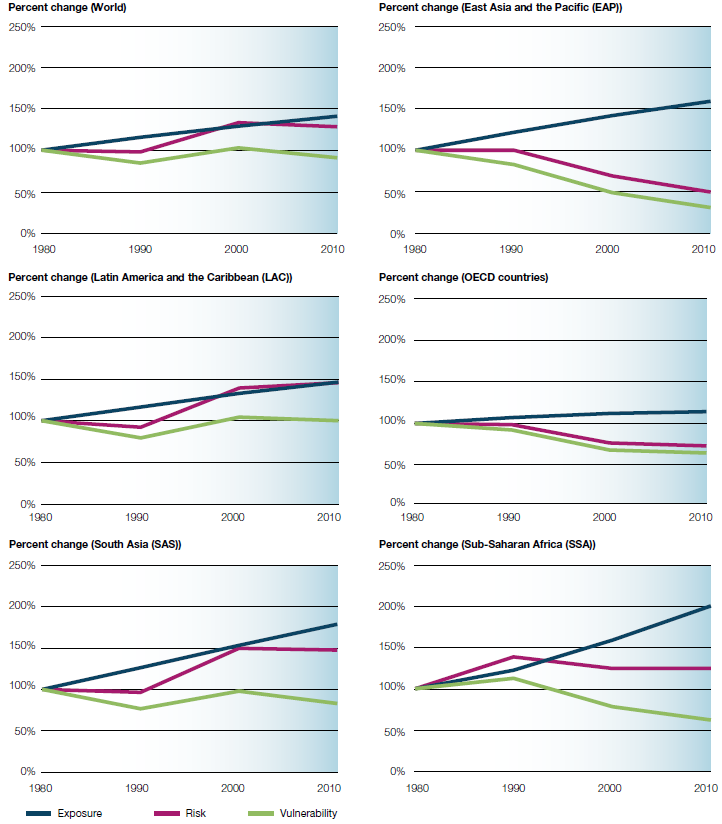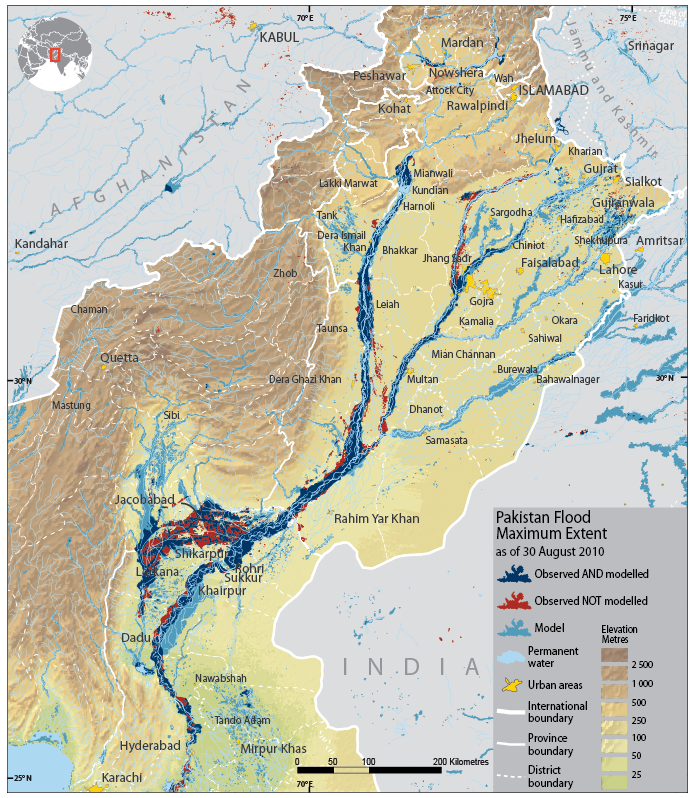 The challenges to reducing flood risk in South Asia were highlighted by the August 2010 floods in Pakistan, which killed approximately 1,700 people and caused US$9.7 billion in damage to infrastructure, farms and homes, as well as other direct and indirect losses (
ADB/World Bank, 2010
). The map contrasts the areas that actually flooded with those areas that the GAR09 risk model predicted would be flooded during a 1-in-100-year flood (
Herold and Mouton, 2011
Hydrology and Earth System Sciences 8: 305–363.
.
). As with any flood, some areas the model predicted would flood were spared, and some flooded areas were not captured by the model. The flooding was concentrated in rural areas with rapidly growing populations that lacked a prominent political voice—risk factors that contributed to the high mortality.
The risk model also predicted a mortality rate approximately four times higher than that reported, suggesting the reduction in flood mortality in South Asia described earlier may be conservative. That the risk could be modelled at all highlights that this was not an unexpected disaster.
Global tropical cyclone mortality risk is also decreasing (Figure 2.12), a trend largely controlled by a very significant reduction in risk in East Asia and the Pacific. In the OECD and sub-Saharan Africa, increased exposure is being offset by reduced vulnerability. However, in Latin America and the Caribbean, and South Asia, risk in 2010 remained higher than in 1990.
The picture is even more optimistic when looking at risk relative to population size. Flood mortality risk has fallen since 1980 in all regions apart from South Asia (Figure 2.14). In East Asia and the Pacific, in particular, it has declined by about two-thirds.
In relative terms, cyclone mortality risk has fallen in all regions since 2000 (Figure 2.15), and is now lower than in 1980. This is an important achievement considering the extent to which exposure has increased over the same period. For example, in East Asia and the Pacific, relative mortality risk has fallen by about two-thirds since 1980, and has almost halved in sub-Saharan Africa.