2.2 Global disaster risk trends
As the case of Dhaka illustrates, earthquake mortality risk may be increasing, particularly in countries experiencing rapid urban growth. In contrast, mortality risk associated with major weather-related hazards is now declining globally, including in Asia, where most of the risk is concentrated. Although the number of people exposed to tropical cyclones and floods continues to increase, countries are successfully reducing their vulnerabilities and strengthening their disaster management capacities. In East Asia and the Pacific, mortality risks for both floods and cyclones are now about one third of what they were in 1980, relative to the size of the region's population: a major achievement. South Asian countries have struggled to reduce mortality risks, but these have also fallen over the last decade.

2.2.1 Weather-related mortality risk remains highly concentrated in countries with low GDP and weak governance
Figures 2.2 to 2.7 show an updated global distribution of mortality risk for three weather-related hazards (tropical cyclones, floods and rain-triggered landslides). In these maps, the areas of highest risk correspond to areas where high concentrations of vulnerable people are exposed to severe and frequent hazards. The risk model highlights that flood mortality risk is highest in rural areas with a dense and rapidly growing population in countries with weak governance; cyclone mortality risk is highest in isolated rural areas with low GDP per capita;
and landslide risk is highest in areas with low GDP per capita. For all weather-related hazards, countries with low GDP and weak governance tend to have drastically higher mortality risks than wealthier countries with stronger governance.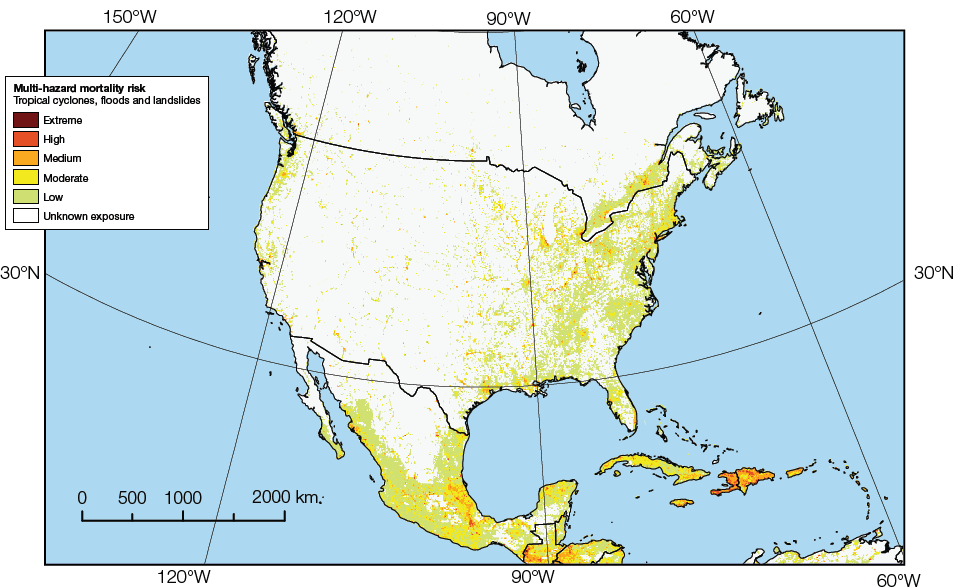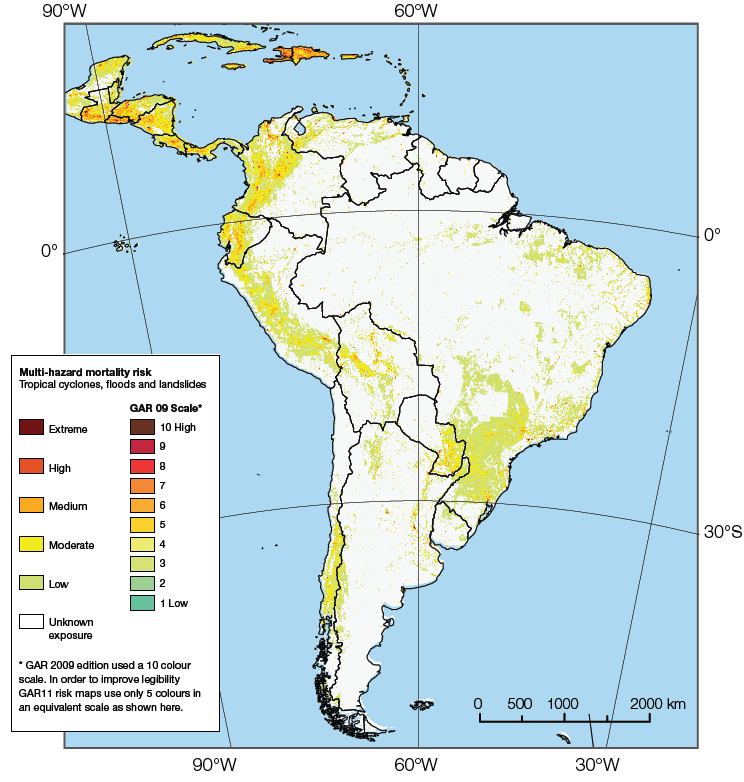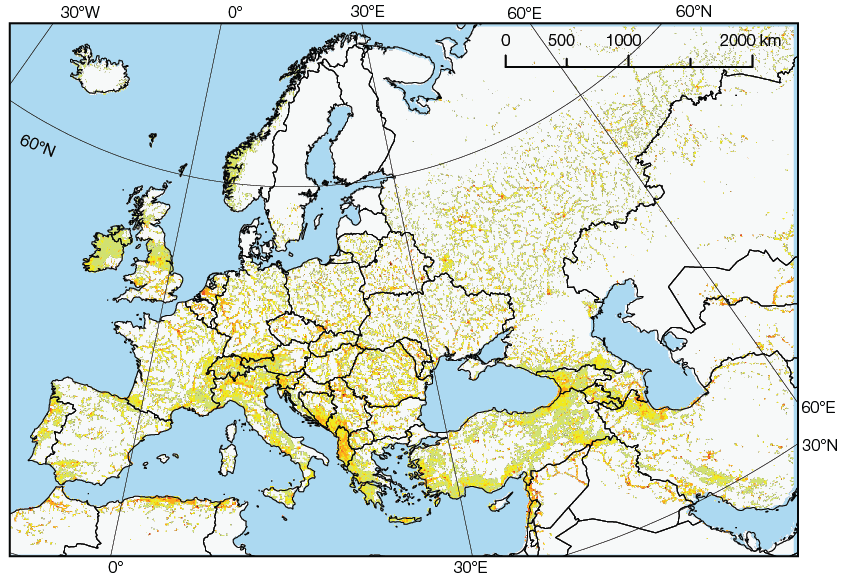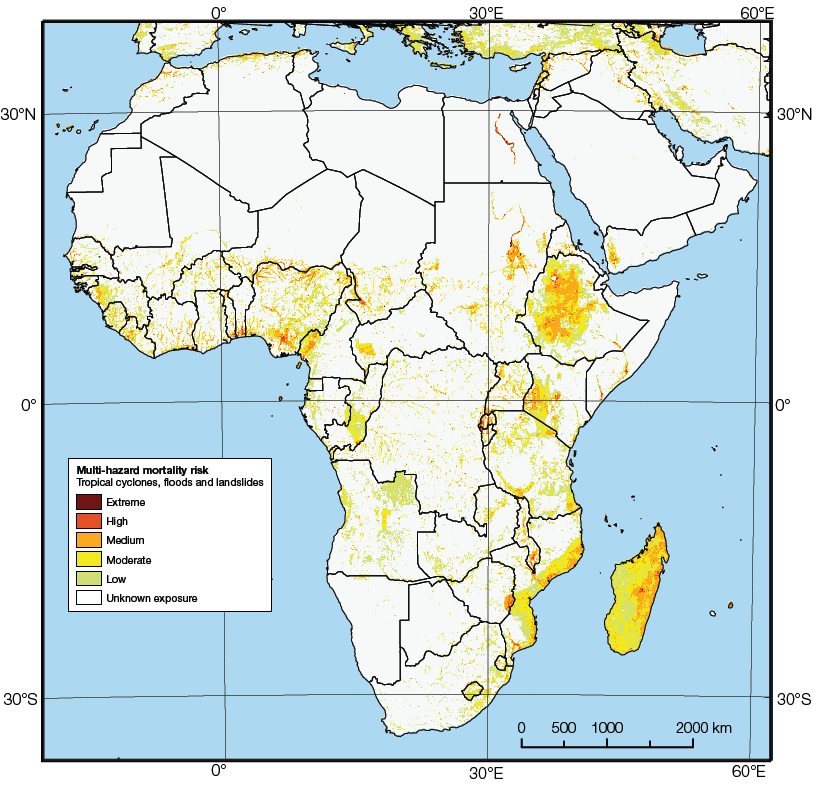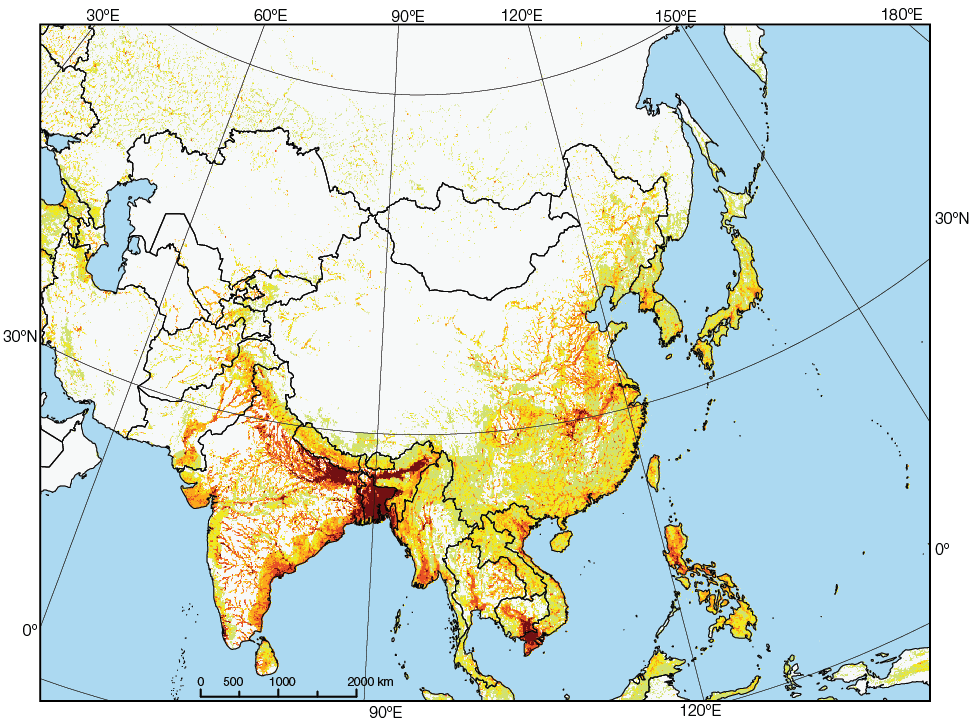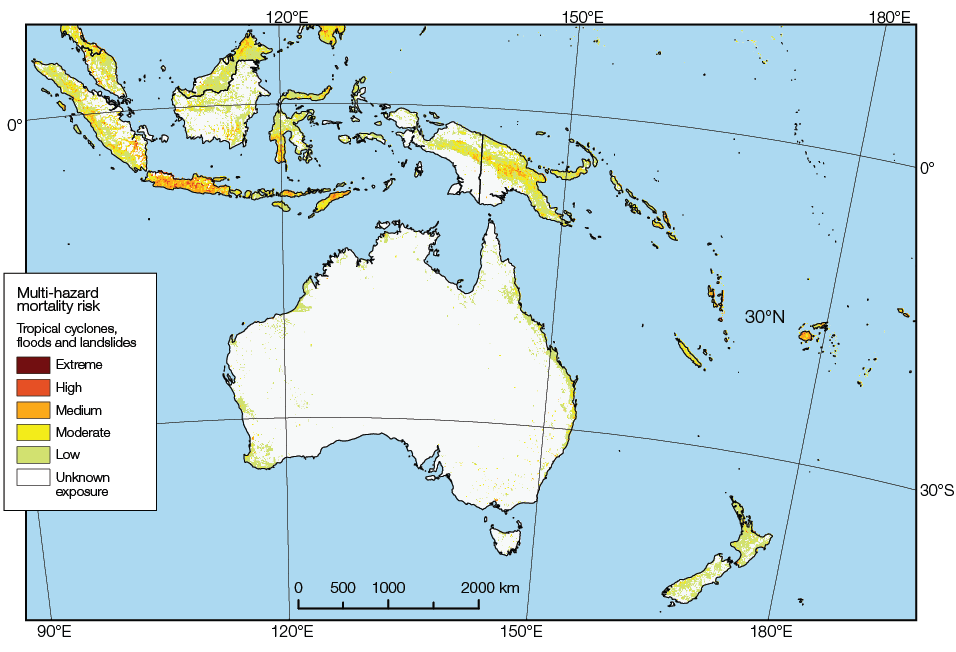 2.2.2 Exposure to floods and tropical cyclones is increasing rapidly, growing fastest in low-income countries
Between 1970 and 2010, the world's population increased by 87 percent (from 3.7 billion to 6.9 billion). In the same period, the average numbers exposed to flooding every year increased by 114 percent (from 32.5 to 69.4 million annually).
Relatively speaking, ever more people are living in flood plains, suggesting that the economic advantages of living in such an environment must outweigh the perceived risks of flooding. Populations in cyclone-prone areas are also growing, highlighting the attractiveness of tropical coastlines for tourism as well as for economic and urban development in general.
Global physical exposure to tropical cyclones almost tripled (increasing by 192 percent) between 1970 and 2010.
Low- and lower-middle-income countries not only have the largest proportion of their population exposed to floods, but their exposure is also growing faster than in middle-income and Organisation for Economic Co-operation and Development (OECD) countries (Figure 2.8). More than 90 percent of the global population exposed to floods live in South Asia, East Asia and the Pacific (Table 2.2), but exposure is growing most rapidly in sub-Saharan Africa. In contrast, exposure is increasing only marginally in OECD countries whereas in eastern and south-eastern Europe and Central Asia it is stable, reflecting a broader trend of demographic changes.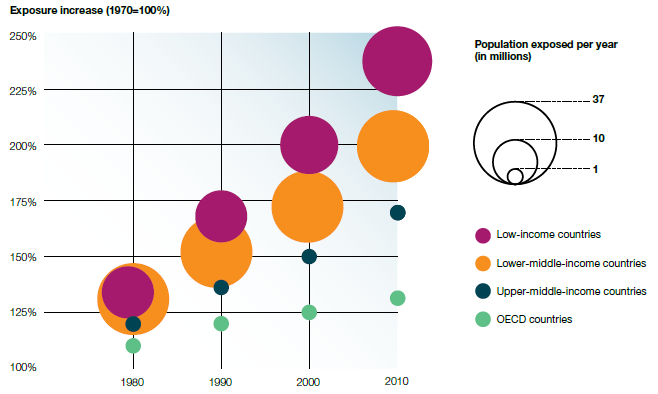 | Region | 1970 | 1980 | 1990 | 2000 | 2010 |
| --- | --- | --- | --- | --- | --- |
| East Asia and the Pacific (EAP) | 9.4 | 11.4 | 13.9 | 16.2 | 18.0 |
| Europe and Central Asia (ECA) | 1.0 | 1.1 | 1.2 | 1.2 | 1.2 |
| Latin America and the Caribbean (LAC) | 0.6 | 0.8 | 1.0 | 1.2 | 1.3 |
| Middle East and North Africa (MENA) | 0.2 | 0.3 | 0.4 | 0.5 | 0.5 |
| OECD countries (OECD) | 1.4 | 1.5 | 1.6 | 1.8 | 1.9 |
| South Asia (SAS) | 19.3 | 24.8 | 31.4 | 38.2 | 44.7 |
| Sub-Saharan Africa (SSA) | 0.5 | 0.7 | 1.0 | 1.4 | 1.8 |
| World | 32.4 | 40.6 | 50.5 | 60.5 | 69.4 |
Since 1970 there has been little change in the overall number of tropical cyclones (Figure 2.9). The number of recorded Category 1 and 2 cyclones has been decreasing whereas the number of Category 4 and 5 cyclones has been increasing.
Over half of all tropical cyclones that made landfall affected East Asia and the Pacific and OECD countries (mainly Japan, the United States of America and Australia) (Table 2.3). Although most of the annual average exposure to tropical cyclones is concentrated in lower-middle- and high-income countries, exposure is growing most rapidly in low-income countries (Figure 2.10) where it has increased almost eight-fold since the 1970s (the dip in exposure in the 1990s reflects fewer cyclones in that decade).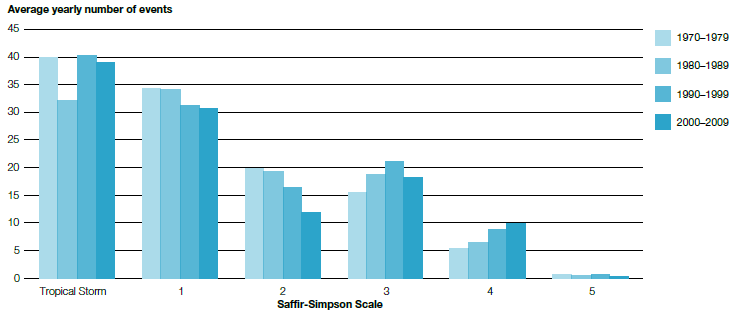 | Region | 1970-1979 | 1980-1989 | 1990-1999 | 2000-2009 |
| --- | --- | --- | --- | --- |
| East Asia and the Pacific (EAP) | 36.6 | 42.2 | 44.3 | 53.7 |
| Latin America and the Caribbean (LAC) | 1.1 | 1.6 | 1.2 | 5.2 |
| Middle East and North Africa (MENA) | 0.0 | 0.0 | 0.0 | 0.1 |
| OECD countries (OECD) | 26.2 | 27.2 | 39.7 | 53.2 |
| South Asia (SAS) | 1.5 | 7.8 | 11.1 | 7.6 |
| Sub-Saharan Africa (SSA) | 0.5 | 0.9 | 1.5 | 2.7 |
| World | 65.9 | 79.8 | 97.8 | 122.5 |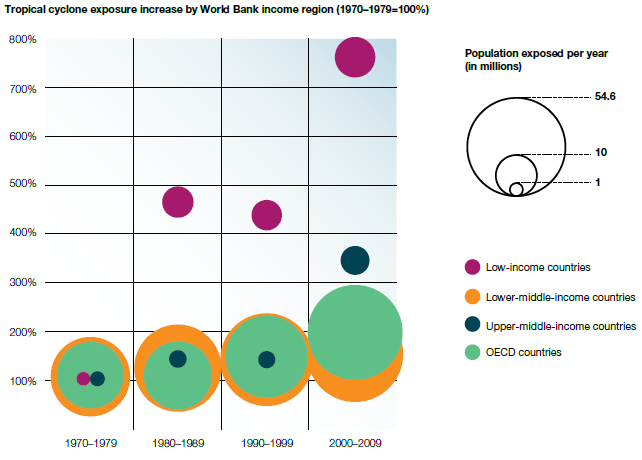 Notes