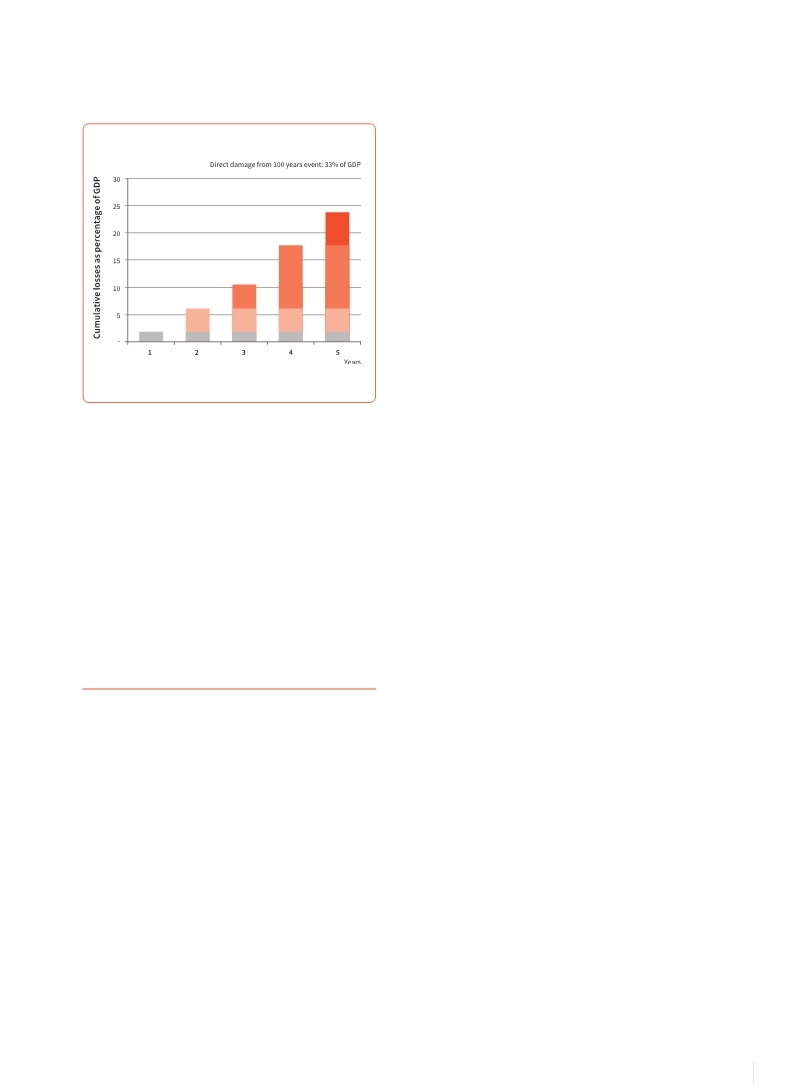 Businesses should be a strong proponent of such efforts as they promise a first step towards addressing hidden fiscal risks that can directly impact on their environment, as witnessed since the global economic crisis began in 2007. Businesses have begun to recognise this in accounting for natural capital (WAVES, 2012


WAVES. 2012.,Moving beyond GDP. How to factor natural capital into economic decision making., WAVES Partnership, June 1012., Washington: World Bank,. .

), which—as discussed in the next chapter—is critical to national wealth, but are yet to fully embrace this as an opportunity.
(Source:

Hochrainer et al., 2013

Hochrainer, S., Timonina, A., Williges, K., Pflug,G. and Mechler, R. 2013.,

Modelling the indirect and fiscal risks from natural disasters using the CatSim model.

, Background Paper prepared for the 2013 Global ASsessment Report on Disaster Risk Reduction., Geneva,Switzerland:UNISDR..

Click here to view this GAR paper

.

)
Figure 5.12
Modelled cumulative macroeconomic effects of disasters in Honduras
i
Countries for which no data on gross fixed capital formation is available, and which were therefore not included in the following analysis, are: Anguilla, Democratic People's Republic of Korea, French Guiana, Guadeloupe, Martinique, Mayotte, Myanmar, Réunion, Turks and Caicos Islands, United States Virgin Islands.
ii
Losses to other types of assets such as road or water infrastructure are not included.
iii
World Bank data on national revenue from: http://data.worldbank.org/indicator/GC.REV.XGRT.GD.ZS?page=1 Countries for which no data on revenue is available, and which were therefore not included in the analysis, are: Aruba, Angola, Anguilla, Albania, Algeria, Argentina, Antigua and Barbuda, Australia, Belgium, Belize, Bolivia (Plurinational State of), Brazil, Botswana, British Virgin Islands, Brunei Darussalam, Burundi, Central African Republic, Cameroon, Cape Verde, Cayman Islands, Chad, Comoros, Congo, Cote d'Ivoire, Cuba, Czech Republic, Democratic Republic of the Congo, Democratic People's Republic of Korea, Djibouti, Dominica, Ecuador, El Salvador, Equatorial Guinea, Eritrea, Ethiopia, Faeroe Islands, French Guiana, French Polynesia, Gabon, Germany, Gibraltar, Guinea, Guadeloupe, Grenada, Guyana, Haiti, Iraq, Liechtenstein, Mauritania, Martinique, Mayotte,
Micronesia (Federated States of), Monaco, Montenegro, Myanmar, Georgia, Ghana, Gambia, Guinea-Bissau, Greece, Guatemala, Hong Kong Special Administrative Region of China, Honduras, Indonesia, Iran (Islamic Republic of), Italy, Lao People's Democratic Republic, Libya, Lithuania, Luxembourg, Latvia, Mexico, Mali, Mongolia, Mozambique, Malawi, Malaysia, Namibia, New Caledonia, Niger, Nicaragua, Nepal, Oman, Panama, Palau, Papua New Guinea, Puerto Rico, Paraguay, Réunion, Russian Federation, Rwanda, Saint Lucia, Samoa, Senegal, San Marino, Sao Tome and Principe, Saudi Arabia, Solomon Islands, Somalia, Serbia, Spain, Sudan, Suriname, Sweden, Swaziland, Switzerland, Syrian Arab Republic, Tajikistan, Turks and Caicos Islands, Turkmenistan, Tonga, Tunisia, Turkey, Taiwan Province of China, Ukraine, United Arab Emirates, United Kingdom of Great Britain and Northern Ireland, United Republic of Tanzania, United States of America, United States Virgin Islands, Uruguay, Uzbekistan, Venezuela (Bolivarian Republic of), Vanuatu, Viet Nam, Western Sahara, Yemen, Zimbabwe.
iv
Information directly provided to UNISDR by JICA in support of the 2013 Global Assessment Report on Disaster Risk Reduction. The simulations were made using JICA's "DR2AD Model", an economic model that measures the social and economic impacts of disaster risk reduction investments and allows policy-makers to evaluate multi-index effects of these investments.
v
See for example World Bank Indicators' adjusted savings data: http://web.worldbank.org/WBSITE/EXTERNAL/TOPICS/ENVIRONMENT/ EXTEEI/0,,contentMDK:20502388~menuPK:1187778~pagePK :148956~ piPK:216618~theSitePK:408050,00.html.
vi
http://www.wavespartnership.org/waves/private-sector%E2% 80%99s-role-recognizing-value-natural-capital-focus.