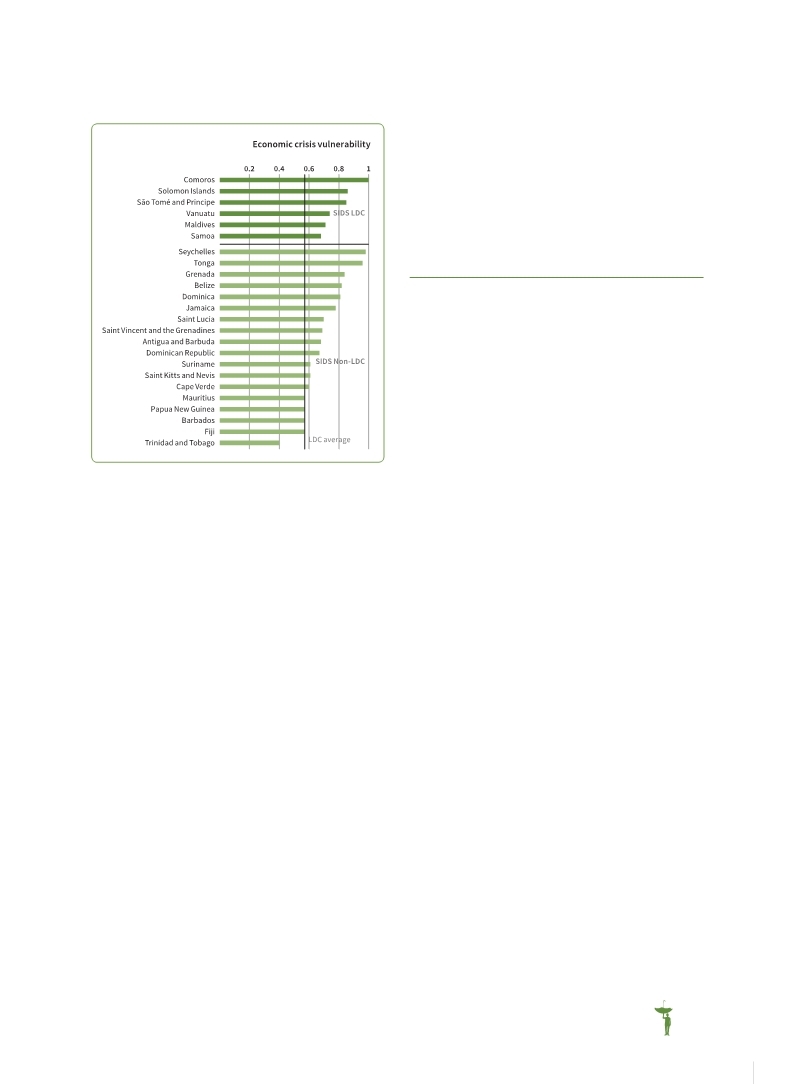 In many SIDS, business investment in the tourism sector is driven by attractive tropical beachfront and coastal locations, associated marine leisure opportunities as well as land-based activities, such as golfing. Several SIDS also promote business and conferencing facilities along with attractive beachfronts, targeting large national and international companies and organisations. Because of these comparative advantages, the tourism sector has been a major driving factor for economic growth, particularly between 2005 and 2010, enabling countries such the Maldives and Cape Verde to graduate from their Least Developed Country (LDC)
status (UNWTO, 2012


UNWTO (World Tourism Organization). 2012.,Challenges and Opportunities for Tourism Development in Small Island Developing States., Madrid,Spain.. .

).
In 2007, international tourism receipts accounted for 51 percent of total value of exports of SIDS compared with less than 10 percent in other developing countries (UNDESA, 2010


UNDESA (United Nations Department of Economic and Social Affairs). 2010.,Trends in Sustainable Development. Small Islands Developing States (SIDS)., United Nations publication., New York,USA.. .

). Figure 9.1 highlights the contribution made by the tourism sector to exports and GDP in 25 SIDS.
Investment in the tourism sector, however, presents SIDS with opportunities as well as challenges. Tour-
ism generates economic growth and employment. But this reliance on a single economic sector implies risks. As Figure 9.2 shows, all but a handful of SIDS (whether they are LDCs or not) have a higher vulnerability to shocks and crises than LDCs in general.
Direct and indirect losses from disasters in SIDS can affect not only the entire tourism industry but national economies as a whole. Tourism investments both exacerbate and suffer significant impacts from weather-related disasters in these countries.
The comparative advantage of SIDS in attracting business investment in the tourism sector is equally one of their greatest risks. For example, in the Caribbean, typical tourism development is located within 800 metres from the high water mark (World Bank, 2000). In the Commonwealth Caribbean more than 65 percent of hotel rooms are in coastal areas—in Barbados, for example, the percentage exceeded 90 percent in 2002 (Jackson, 2002


Jackson, I. 2002.,Adaptation to Climate Change in the Caribbean Tourism Sector Workshop Grenada, May 27-28, 2002., Prepared for the Organization of American States (OAS).. .

).
By their very nature, these investments—particularly in beach tourism—are highly exposed to hazards such as tropical cyclones, storm surges and tsunamis. Further, coastal tourism is highly exposed and vulnerable to negative impacts from climate change (ECLAC, 2011


ECLAC (United Nations Economic Commission for Latin America and the Caribbean). 2011.,The economics of climate change in the Caribbean., Caribbean Development Report, Vol. III., Port-of-Spain,Trinidad and Tobago.. .

). This may include infrastructure exposed to sea level rise, beaches that are subject to coastal erosion, diving centres that depend on healthy coral reefs, as well as sedimentation and water pollution.
As highlighted in Chapter 7, many SIDS have exceptionally high levels of disaster risk. Business investment in the SIDS tourism sector, therefore, comes with high levels of disaster risk, which, given the high dependency of local economies on tourism, becomes a shared cost for economies and societies as a whole.
(Source: Adapted from (UNDESA, 2010


UNDESA (United Nations Department of Economic and Social Affairs). 2010.,Trends in Sustainable Development. Small Islands Developing States (SIDS)., United Nations publication., New York,USA.. .

))
Figure 9.2
iii
of SIDS economies (LDCs and non-LDCs) compared with LDCs on average