Chapter 1 Introduction
Father José de Cevallos was adamant. The earthquake, tsunami and fires that destroyed Lisbon in 1755 were natural events. In contrast, the earthquake and tsunami that destroyed Lima and its port of Callao in 1746 were acts of God, divine retribution for Callao's libertine population (
Walker, 2008
The destruction of one of the most important cities in the Americas together with a major European capital in a space of only nine years seriously disrupted the economies of Spain and Portugal, and led to intense debate on the causes of such disasters. The twin catastrophes of Lima-Callao and Lisbon marked a turning point in the way disasters were looked at and understood.
Historical evidence shows that societies have always incorporated a degree of risk management into their technological systems, urban infrastructure and cosmology. In Peru, for example, the Chimu culture portrayed the social and economic impacts of El Niño on vast adobe tapestries in the coastal city of Chan Chan (
Pillsbury, 1993
Lambert et al., 1969
Dalley, 1989
Shaughnessy and Loewe, 1999
Four hundred years before the destruction of Lima-Callao and Lisbon, the North African philosopher and historian Ibn Khaldun was already theorizing on the relationships between nature, physical hazards, development and political systems (
Ibn Khaldun et al., 1989
Another two hundred years passed before tectonic plate theory became scientific orthodoxy. This and other discoveries gradually led to today's acceptance that earthquakes, tsunamis, tropical cyclones, floods and droughts are physical events that can be measured and modelled.
Whereas physical hazards are increasingly well understood, the escalating losses associated with them indicate that contemporary societies still find it difficult to prevent hazards from becoming disaster risks. Peru and Indonesia, for example, are among the countries that could be hit by a devastating once-in-500-years tsunami with a height of more than six metres (
UNISDR, 2009
Stocks of risk and risk construction
All governments are responsible for assets, some of which will be risk-prone. Governments have explicit responsibility for the safety of publicly owned assets, including schools, hospitals and clinics, water supplies, sanitation, electricity grids, communication networks, roads, bridges and other parts of the national infrastructure. At the same time, they have a responsibility for protecting the lives, livelihoods and uninsured private assets of households and communities after disasters.
This stock of risk-prone assets is socially constructed, often over long periods by layers of decisions and consequent investments by individuals, households, communities, private businesses and the public sector, to different degrees and at different scales (
Maskrey, 1996
Oliver-Smith, 1999
Whereas public investment usually represents only a small proportion of total investment in a country (
UNFCCC, 2007
As new development decisions and investments interact with the existing stock of public risk, they have impacts which may not be immediately apparent. It may be years or even decades before these impacts manifest, in loss of life, destroyed livelihoods, or damaged infrastructure. If these losses go unmanaged, they may have further and longer-term effects such as increasing poverty, declining human development and reduced economic growth.
Extensive risks
The vast majority of these losses and impacts are extensive in character, occurring throughout a country's territory (Figure 1.2). As risk accumulates over time, it manifests as a large and rising number of localized disasters, mainly associated with storms, flooding, fires and landslides, and linked to climate variability. These localized disasters may account for only a small proportion of overall disaster mortality but, closely mirroring development processes (
UNISDR, 2009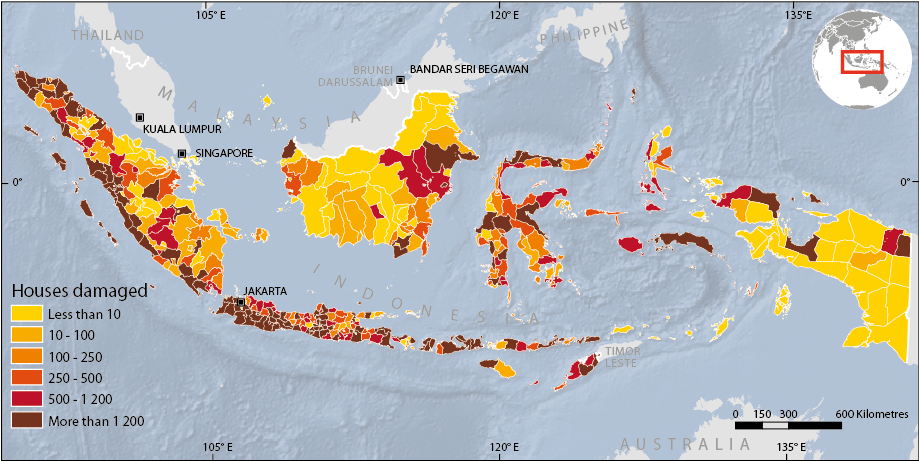 Intensive risks
When extensive risk accumulates in areas prone to major hazards, such as earthquakes, tsunamis, tropical cyclones or flooding in large river basins, it paves the way for infrequent but highly destructive intensive disasters. Disasters, such as those associated with the 2010 earthquake in Haiti which reportedly killed 222,517 people and injured another 310,928 (
UNOCHA, 2010
EM-DAT, 2011a
2009 Global Assessment Report
(
UNISDR, 2009
Hazard and risk estimates, largely produced by and for the insurance industry, provide increasingly sophisticated models of the probable maximum losses associated with major hazards. Other studies identify areas where, for example, major earthquakes could occur (
Aon Benfield, 2010
Nonetheless, there are still important gaps in our knowledge. In 1356, a strong earthquake destroyed Basel, Switzerland, but historical and instrumental records do not go back far enough to provide a reliable guide to the largest earthquakes that could occur in Central Europe (
Stewart, 2003
Brenes Torres, 2010
Emerging risks
Even if these knowledge gaps can be filled, existing assumptions about disaster are being increasingly challenged, as new drivers of risk emerge and interact.
Between 1601 and 1603 Russia suffered the worst famine in the country's history. It is estimated that over 100,000 people starved to death in Moscow alone and perhaps two million in Russia as a whole (
Borisenkov and Paseckij, 1988
Thouret et al., 1997
Briffa et al., 1998
de Silva and Zielinski, 1998
Thouret et al., 2002
Like this example of a disaster caused by an event on the other side of the world, a growing number of potential and plausible risks are either so difficult to identify or have such profound potential consequences, that it is difficult to find an entry point for risk modelling and analysis. Very low-probability hazards, such as geomagnetic storms or volcanic eruptions affecting global weather systems, have always existed. However, there may be no precedent for the emerging risks associated with these hazards as research reveals the increasingly complex vulnerabilities related to the growing interconnection and interdependency of modern societies. As such, there is a growing probability of 'simultaneous crisis' where different hazards occur at the same time, 'sequential crisis' where hazards trigger cascading disasters in a range of interlocked systems, and 'synchronous failures' where different risks converge and interact (Box 1.2).
On 26 July 2005, the eighth heaviest 24-hour rainfall ever recorded fell on Mumbai, and the resulting flood offers a glimpse into what a 'synchronous failure' looks like. Overwhelmed sewage systems, damaged physical infrastructure, and disrupted communications systems greatly intensified the flood's impact. Throughout the city, ATM networks collapsed, the Bombay and National Stock Exchanges became largely inoperative, the Mumbai-Pune Expressway was closed and the Chatrapati Shivaji International Airport was shut down (
Kent, 2010a
In 2010, western Russia experienced a 'sequential crisis' as a heat-wave created conditions for wildfires, exposing layers of new and emerging vulnerabilities that cascaded into impacts in areas as diverse as health and air traffic for which there was no historical precedent (Box.1.3).