Mission
The Disaster and Emergency Management Presidency (AFAD) was established in December, 17 2009. The Presidency executes its duties and powers under the Prime Minister. The Disaster and Emergency Management Presidency is a dynamic, flexible and work-focused institution that ensures collaboration between all institutions and organizations of the country for planning, steering, supporting, coordinating and ensuring the effectiveness of activities that are necessary for fast completion of the works carried out to prevent disasters and minimize losses, respond to disasters, and engage in post-disaster recovery, and is a multi-dimensional institution working with multiple actors, that promotes rational utilization of resources in this area, and that believes in multidisciplinary working. AFAD is the successor to Emergency Management General Directorate and the General Directorate of Disaster Affairs (GDDA).
Disaster Reduction Goal
Disaster management model has shifted the priority from ''Crisis Management'' to ''Risk Management''.
Policies and Programmes in DRR
''Integrated Disaster Management System'' has been adopted which provides for identification of hazards and risks in advance to mitigate the losses caused by disasters and emergencies, taking measures to prevent or minimize possible losses before the disaster takes place, ensuring effective response and coordination, and carrying out post-disaster recovery works in an integrated manner. The Presidency works through the Provincial Disaster and Emergency Directorates that are directly subordinate to Governor's Offices in provinces, and through the Civil Defence and Rescue Unit Directorates that are active in 11 provinces
Websites
http://www.afad.gov.tr
Kızılırmak Mah. Ufuk Üniversitesi Cad. Nu: 12 Çukurambar / Söğütözü / Çankaya 06510 Ankara Turkey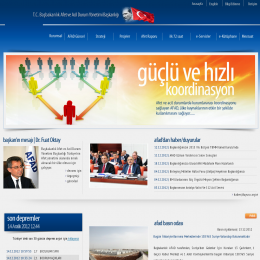 Badges
Conferences:

- UNISDR Science and Technology Conference