Mission
WHO, as a specialized agency of the United Nations, is the directing and coordinating authority for health within the United Nations system. WHO's Constitution came into force on 7 April 1948.
WHO is responsible for providing leadership on global health matters, shaping the health research agenda, setting norms and standards, articulating evidence-based policy options, providing technical support to countries and monitoring and assessing health trends.
Disaster Reduction Goal
• To support a multi-sectoral approach to improving health outcomes for people at risk of emergencies and disasters by reducing: deaths, injuries, illness and disability; damage to hospitals and health infrastructure; and disruption to health care services;
• To support countries in building national capacities in all-hazard health emergency and disaster risk management, and in strengthening the resilience of health systems and continuity of health services – including physical integrity, safety and functionality of health facilities –before, during and after emergencies;
• To strengthen the resilience of communities and national self-reliance in managing emergencies.
Policies and Programmes in DRR
The World Health Assembly, the governing body of WHO, adopted WHA Resolution (WHA64.10) on "Strengthening national and community health emergency and disaster management capacity and resilience of health systems" in May 2011.
Resolutions have been passed by every WHO Regional Committee over the past 20 years to reinforce the mandate given to WHO and to strengthen capacities of Member States.
The commitment of Member States and WHO for health emergency and disaster risk management is expressed in various international agreements, frameworks and resolutions for specific hazards and areas of public health, such as the International Health Regulations (2005), mental health, disability, food safety, non-communicable diseases, environmental health, climate change, radiation safety and chemical safety.
Strategic Objective 5 of WHO's Medium-Term Strategic Plan (MTSP) for 2008-2013 is: "To reduce the health consequences of emergencies, disasters, crises and conflicts, and minimize their social and economic impact." The 2012-2013 biennial global work plan plans describe WHO activities to support countries in the areas of health sector risk reduction, including emergency preparedness, and to build institutional capacity in WHO for emergency preparedness and response.
Looking ahead to 2014-2015, health emergency and disaster risk management is embedded in the proposed category 5: "Preparedness, surveillance and response". This commitment is described in the references to WHO Reform and the WHO Global Programme of Work at http://www.who.int/about/who_reform/en/index.html
In 2012, the Regional Committee for Africa adopted a resolution (AFR/RC62/R1) to establish a Disaster Risk Management: A Health Sector Strategy for the African Region in order to institutionalize disaster risk management in the health sector, focusing on preparedness for, and response to, emergencies and post-emergency recovery.
Global programmatic guidance includes the WHO Six-Year Risk Reduction and Emergency Preparedness Strategy for Health Sector and Community Capacity Development which was released in 2007.
Membership in Key Networks
• ISDR Inter-Agency Group
• ISDR Regional Platforms and equivalent bodies (Arab States, Africa, Americas, Asia, Europe)
• ISDR Science and Technical Advisory Group
• UN High Level Committee on Programmes Senior Managers Group for Disaster Reduction and Resilience
• Thematic platform on emergency and DR management for health
• Global Health Cluster
• Interagency Standing Committee and subsidiary bodies
• Western Pacific Regional Health Cluster
• International Programme on Chemical Safety
• Global Outbreak Alert and Response Network (GOARN)
• WHO-AMRO/PAHO Disaster Mitigation Advisory Group and REMPAN
National Counterpart
Ministry of Health; WHO-HQ and Regional Offices organizes Public Health Pre-deployment Training courses preparing health professionals to work effectively in providing health programmes to affected populations.
Making disaster risk reduction a policy priority, institutional strengthening (HFA 1)
WHO provides technical guidance and support to Ministries of Health for strengthening all-hazards health and multi-sectoral disaster risk management policies, strategies and legislation. At global level, WHO is facilitating the development of an all-hazards framework on emergency and disaster risk management for health , which describes key principles and the capacities which countries should have in place for managing the health risks of emergencies. It will also assist Ministries of Health in fulfilling their role in promoting whole-of-society action, and describes the roles and responsibilities of actors in health and other sectors which contribute to health outcomes.
At the end of 2011, more than 130 Member States reported having national plans on emergency preparedness, while 46 had active programmes for reducing the vulnerability of health facilities.
As at 1 November 2012, 40 States Parties to the International Health Regulations (2005) are understood to have established the necessary core capacities.
Risk assessment and early warning systems (HFA 2)
WHO provides guidance on assessing risks to health and health systems using analyses of hazards, vulnerabilities and capacities. Regional hazard atlases have been developed for the African, European and Eastern Mediterranean regions in order to facilitate country-level risk assessments. WHO plays an active role in global surveillance and monitoring of potential threats to health, particularly from biological, natural and technological (such as chemical and radiological hazards) sources to enable early detection and warning to prompt action by the public, health workers and other sectors.
WHO has assisted countries with the application of tools for monitoring and assessing capacities, which serve as the basis for capacity development plans. WHO provided support for assessments which were completed in Bangladesh, Croatia, England, Greece, Indonesia, Israel, Malta, Myanmar, Nepal, Oman, Sierra Leone, Tanzania, and Uganda.
Education, information and public awareness (HFA 3)
WHO works with Member States, academia and other learning institutions in all Regions on the development and delivery of regional and national learning programmes and technical guidance to strengthen the knowledge, skills and attitudes of professionals in health and other sectors for managing the health risks of disasters. For example, the collaboration between WHO-WPRO, WHO-SEARO and the Asian Disaster Preparedness Centre for public health emergency management in Asia-Pacific has been conducted for more than a decade. Risk communication for health workers, households and communities at risk also promotes healthy behaviours to reduce risks and prepare for emergencies and disasters.
Reducing underlying risk factors (HFA 4)
At the core of reducing underlying risk factors are measures to reduce poverty and strengthen health systems, aimed at improving the underlying health status of people at risk of disasters. WHO is working with health systems colleagues, Ministries of Health and technical departments to integrate health emergency risk management in all aspects of health systems, including national health plans, UN Development Assistance Frameworks and technical areas.
WHO provides support to countries on making hospitals safer and better prepared for emergencies and disasters.
Guidance, training and tools are available, to assess the safety and preparedness of existing health facilities (using the Hospital Safety Index), and for developing new hospitals with a sufficient level of protection to remain functional and deliver health services in emergency situations.
WHO also provides guidance on the protection of other vital infrastructure, and facilities that have the potential to generate risks to public health, such as water and sanitation systems and chemical facilities, and that should apply risk management measures.
Preparedness for effective response (HFA 5)
WHO provides support for emergency and disaster preparedness, including response planning, training, pre-positioning of health supplies, development of surge capacity, and exercises for health care professionals and other emergency service personnel, technical assistance is also designed to strengthen the capacity of health systems to deliver health services before, during and after emergencies, for example, in trauma care, mental health, environmental health, disease surveillance and response, non-communicable diseases and nutrition.
Disaster Risk Reduction Focal Point(s)
• Department of Emergency Risk Management and Humanitarian Response in Polio, Emergencies and Country Collaboration Cluster, WHO, Geneva (PEC/ERM)
• Disaster Preparedness and Response, WHO Regional Office for Africa (AFRO), Brazzaville, Congo
• Country Emergency Preparedness, WHO Regional Office for Europe (EURO), Copenhagen, Denmark
• Health Security and Regulations, WHO Regional Office for the Eastern Mediterranean (EMRO), Cairo, Egypt
• Emergency and Humanitarian Action, WHO Regional Office for South-east Asia (SEARO), New Delhi, India
• Health security and Emergencies, WHO Regional Office for the Western Pacific (WPRO), Manila, The Philippines
Websites
- http://www.who.int/hac
- http://www.who.int/hac/about/wmc_brochure.pdf
- http://www.afro.who.int/en/clusters-a-programmes/ard/emergency-and-humanitarian-action.html
- http://www.emro.who.int/eha/
- http://www.euro.who.int/emergencies
- http://www.paho.org/disasters
- http://www.searo.who.int/en/Section1257/Section2263.htm
- http://www.wpro.who.int/sites/eha/
- http://safehospitals.info
Avenue Appia 20 1211 Geneva 27 Switzerland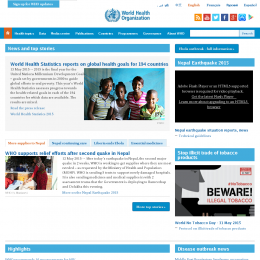 Badges
Conferences:

- UNISDR Science and Technology Conference
- Health and DRR Conference
- 2017 Global Platform