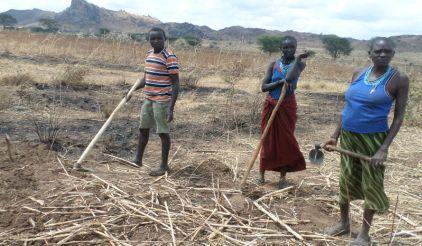 Uganda
Development in Karamoja, Uganda was held back for decades due to a long-running civil conflict in Uganda's northern region. While fighting has ended, poverty remains endemic in the area, which is characterized by harsh weather conditions. An estimated 74.2 percent of the population live below the poverty line, compared to the Ugandan national average of 19.7 percent. Water and sanitation coverage is also patchy in Karamoja, with just 20.6 percent of households having access to latrines, compared to the national average of 72 percent. Only 21 percent of women have access to healthcare during childbirth, about half the national average.
The Karamoja region is semi-arid and about 80 percent of the population of 1.2 million is involved in pastoralism or agro-pastoralism. The major livelihood challenges include inaccessibility to grazing areas and water resources, livestock diseases and lack of access to markets and information.
The Drylands Integrated Development Project was launched in June 2015 to address a swath of challenges which fuel the population's vulnerablity to hazards. The five-year project will complement and strengthen the existing government projects in Karamoja, Uganda, to address food insecurity, improve crop and livestock production, health coverage, education, develop business and infrastructure.
Related Theme Pages
« BACK