Mission
The Wilson Center, chartered by Congress as the official memorial to President Woodrow Wilson, is the US's key non-partisan policy forum for tackling global issues through independent research and open dialogue to inform actionable ideas for Congress, the Administration and the broader policy community.
The Wilson Center seeks to be the leading institution for in-depth research and dialogue to inform actionable ideas on global issues.
The Environmental Change and Security Program (ECSP) is a program at the Woodrow Wilson International Center for Scholars founded in 1994 to study the connections among environmental, health, and population dynamics and their links to conflict, human insecurity, and foreign policy.
Ronald Reagan Building and International Trade Center, One Woodrow Wilson Plaza 1300 Pennsylvania Ave., NW 20004-3027 Washington, DC United States of America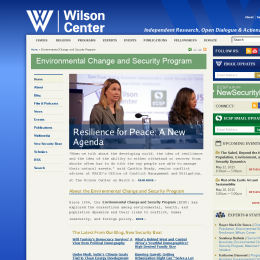 Badges