Mission
Responding to Climate Change (RTCC) is a Non-Governmental Organisation and an official observer to the United Nations climate change negotiations dedicated to raising awareness about climate change issues. RTCC also officially supports the United Nations Framework Convention on Climate Change (UNFCCC) in its outreach programme through Climate Change TV, the world's first online video broadcaster dedicated entirely to climate change issues. Twitter: @RTCCnewswire

Responding to Climate Change (RTCC) is a news and analysis website focused on providing the latest updates and insight into global low carbon developments.

Their sister website Climate Change TV (CCTV) offers an online channel hosting interviews and footage from international climate change and development summits.

RTCC is accredited as official observers to the UN Framework Climate Change Convention (UNFCCC), and run a TV studio for the UN at its climate, biodiversity and desertification talks.

RTCC's annual 'Respond' publication is distributed at every major UN climate summit, covering advances in low carbon policy, technology and research.

RTCC and CCTV are funded by sponsors and web advertising. A list of business partners can be found on their home page.

The RTCC and CCTV team work from the London offices of our parent company Entico Corporation, which specialises in organising conferences and summits in emerging economies.
19 Heddon Street W1B 4BG London United Kingdom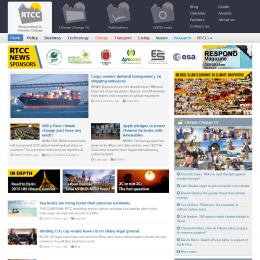 Badges