Mission
The mission of the International Research Centre on El Niño (CIIFEN) is to promote and develop actions to consolidate science-policy interaction and the strengthening of climate and ocean services aiming to contribute on risk management and adaptation to better cope climate change and climate variability.
Disaster Reduction Goal
The CIIFEN looks forward to maximize local capacities to cope with new climate scenarios through the development of climate services for disaster risk reduction and adaptation to climate change.
Membership in Key Networks
Climate Outlook Forum for Western South America
RALCEA
Regional Climate Center for Western South America (implementation phase)
Hydrological Seasonal Forecast Group
Regional Modeling Group
South America Climate Extremes Group
Making disaster risk reduction a policy priority, institutional strengthening (HFA 1)
The activities of CIIFEN are connected to Priority 1 by contributing on partnership development and coordination for institutional strengthening at regional level.
Risk assessment and early warning systems (HFA 2)
The lines of CIIFEN action have focused in the development of regional climate models to improve early warning and scenarios for regional adaptation to climate change; the generation of scenarios of climate risk in agriculture, environment, and others at regional scale; basic scientific research and training of scientists; the Articulation of regional and extra-scientific networks and the establishment of a regional Information System aimed to coordinate and disseminate through a complex network of institutions and mechanisms the information in a specific format for a particular actor, establishing differences in content and form to send information to government agencies, scientists, civil defense authorities, branches, trade union groups and the general public with strategies that range from the use of a virtual core, linked by the Internet, up an explanatory leaflet with graphics from the threat of an El Niño event and the participatory role of the community.
Education, information and public awareness (HFA 3)
The CIIFEN integrates existing networks and institutions, seeking to maximize the capacity created by strengthening the areas that are of greatest weakness at present and delivers added value to existing products, linking scientific and technological support to the social sectors through the tools for decision making in economic, planning and prevention.
Reducing underlying risk factors (HFA 4)
The programs in which the CIIFEN collaborates, both in ocean observation (GRASP, the GOOS Regional Alliance for the South Pacific), and the World Program of Applications and Climatic Services (CLIPS), led by the World Meteorological Organization (WMO), keep close to the forefront of societal applied sciences and provide us a versatile framework to allow a continuous impulse in the disaster prevention and risk management capacities to face hazardous episodes in the region. In this sense, CIIFEN maintains collaboration agreements with the main world Climate Prediction and Research Centers and several academic entities related with disasters prevention, sustainable development, and scientific research, which bring mutual benefits.
Preparedness for effective response (HFA 5)
CIIFEN contributes for preparedness and affective response by delivering El Niño mapping for Western South America countries to undertake preparedness to reduce El Niño and climate impacts.
Websites
http://www.ciifen.org
Escobedo #1204 y Av. 9 de Octubre.Edificio Fundacion El Universo. 09014237 Guayaquil Ecuador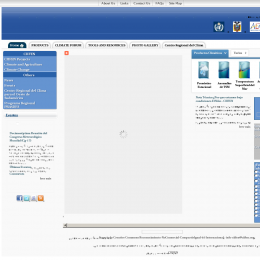 Badges
Conferences:

- 2017 Global Platform