Mission
HELVETAS Swiss Intercooperation is one of the most experienced and largest development organisations in Switzerland. It came into existence on 1 July 2011 with the merger of two organisations: Helvetas (founded 1955) and Intercooperation (founded 1982).
As a politically and denominationally neutral association, HELVETAS Swiss Intercooperation is supported by over 100,000 members and sponsors as well as 12 regional groups of volunteers.
Over 1200 local and 60 international employees (mainly Swiss) are engaged in 30 partner countries in Africa, Asia, Latin America and Eastern Europe. A total of 130 people work at the Bern and Zurich offices as well as at the branches in Lausanne and Balerna. They coordinate development projects, offer advisory services to governmental and non-governmental organisations and raise awareness concerning the problems faced by people in developing countries.
Calle Rosendo Gutierrez No. 704 - Sopocachi 03 La Paz Bolivia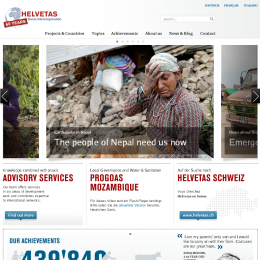 Badges
Conferences:

- 2017 Global Platform
- 2019 Global Platform