Mission
AECOM is a global integrated infrastructure development and services firm. We have over 87,000 professionals working in 150+ countries on all seven continents. With annual revenues exceeding USD $18 billion, AECOM is one of the largest firms in the infrastructure industry.
We are a global network of experts working with clients, communities and colleagues to develop and implement innovative solutions to the world's most complex challenges.
Delivering clean water and energy. Building iconic skyscrapers. Planning new cities. Restoring damaged environments. Connecting people and economies with roads, bridges, tunnels and transit systems. Designing parks where children play. Helping governments maintain stability and security.
We connect expertise across services, markets, and geographies to deliver transformative outcomes. Worldwide, we design, build, finance, operate and manage projects and programs that unlock opportunities, protect our environment and improve people's lives.
Disaster Reduction Goal
Investment in resilience today means protection and cost avoidance in the future. We help clients and communities around the world build resilience through an extensive understanding of assets, risks and vulnerabilities.
From improving coastal infrastructure to address climate-induced sea level rise and severe weather impacts, to assessing risks to assets from all threats, to developing recovery and resilience strategies for transportation systems after disasters, our holistic approach to risk management and resilience helps clients prioritize capital projects, protect vulnerable assets and achieve sustainable growth.
Our work identifies external and internal threats to physical assets, data and intellectual property, as well as vulnerabilities that exist within them. We provide clients with standardized, repeatable methodologies to properly assign value to critical assets. By enumerating those assets and threats, we help clients cut costs, develop effective risk management strategies, improve resilience and achieve higher profitability.
Disaster preparedness is a critical part of our service. We educate clients on its importance to their core investment strategy and the business case for resilience. Every decision must consider the interplay between natural, human, economic and social systems to protect assets.
We are uniquely qualified to simplify and prioritize risk-sensitive investments for clients in both public and private sectors, drawing on our extensive network of technical and creative expertise to deliver solutions that work.
Our extensive real-world knowledge of infrastructure and the socioeconomic and environmental factors that impact business continuity help us deliver proactive solutions that are customized to meet clients' short- and long-term needs. We also partner with a wide range of NGOs to strengthen resilience in communities around the world.
When disaster strikes, we respond quickly. Following floods, severe weather, fires, earthquakes and criminal attacks, we provide infrastructure damage assessment, forensic evaluations and a range of architectural, engineering, environmental and construction services to support rapid recovery and a return to normalcy.
Policies and Programmes in DRR
Critical Infrastructure Protection
Disaster Risk Reduction
Hazard Mitigation Planning
Disaster Recovery
Physical Security and Hardening
Climate Change Adaptation
Cybersecurity
Making Cities Resilient Campaign Activities
Disaster Resilience Scorecard for Cities
Developed by AECOM and IBM, the Disaster Resilience Scorecard for Cities can help cities understand their ability to withstand and bounce back from disruptive events. Structured around the UNISDR's Ten Essentials for Making Cities Resilient, the new version of the Scorecard establishes a baseline measurement of a city's current level of disaster resilience and enables progress to be tracked against either 47 preliminary indicators or 117 detailed indicators.
Disaster Risk Reduction Focal Point(s)
Mr. Josh Sawislak, AICP
Global Director of Resilience
3101 Wilson Blvd., Suite 900
Arlington, VA 22201
USA
+1-703-682-4913
josh.sawislak@aecom.com
Websites
http://www.aecom.com/solutions/risk-management-resilience/
http://www.aecom.com/content/wp-content/uploads/sites/2/2015/10/AECOM_Whats-Next-in-Making-Cities-Resilient_web_v2.pdf
3101 Wilson Blvd., Suite 900 22301 Arlington, VA United States of America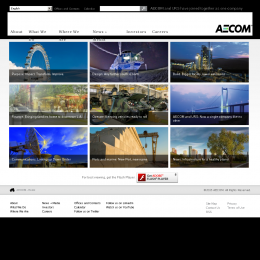 Badges
Conferences:

- UNISDR Science and Technology Conference
- 2017 Global Platform
- 2019 Global Platform