Mission
Pact's promise is that people are at the center of their values. They believe that effective stewardship leads to trust and that trust is the foundation for change.

Pact's core values

• Local Solutions – Our success comes from solutions created with the people we serve.
• Partnerships – Partnerships deepen our impact and promote empowerment.
• Results – Our work must transform lives and make them measurably better. How that change occurs is as important as the change itself.

Purpose

Pact enables systemic solutions that allow those who are poor and marginalized to earn a dignified living, be healthy, and take part in the benefits that nature provides. Pact accomplishes this by strengthening local capacity, forging effective governance systems, and transforming markets into a force for development.

Goals

Vulnerable people access the health products, services and information they need to enjoy a healthy life.

People with limited livelihood choices gain the resources needed to be income secure.

Resource dependent communities gain lasting benefit from the sustainable use of the natural resources around them.

Vision

Pact envisions world where those who are poor and marginalized exercise their voice, build their own solutions, and take ownership over their future.
1828 L Street, NW, Suite 300 20036 Washington DC United States of America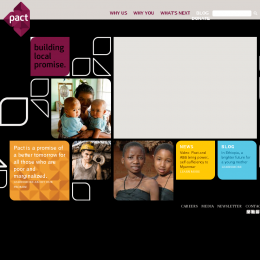 Badges