Mission
CORILA is an association of Ca' Foscari University and the University IUAV of Venice, the University of Padua, the Italy's National Research Council and the National Institute of Oceanography and Experimental Geophysic. It is overseen by the Ministry of Education, University and Research.
CORILA coordinates and manages research activities on the Venice Lagoon and provides decision support information to policy makers and public administrations. It is involved in several multidisciplinary projects in the field of the environment, climate change and sustainable development, taking into particular consideration aspects of coastal zones management.
The CORILA offices are in the heart of Venice, near the Accademia bridge and Piazza San Marco.
Disaster Reduction Goal
CORILA carries out research activities and initiatives that support decision making for disaster risk reduction in particular for the City of Venice and Veneto Region:
1. data collection and management concerning the coastal and lagoon physical system, the environmental, economic and social aspects, as well as the value of cultural heritage.
2. promoting and participating to research project in the field of risk assessment and mitigation such as for example KULTURISK (FP7 project) that develop a risk assessment methodology to evaluate the benefits of risk prevention and THESEUS (FP7 project) on innovative technologies for safer European coasts in a changing climate
3. Working on different topics aiming to reduce vulnerabilities and increase disaster response capacities such as the Integrated Coastal Zone Management, the preservation and restoration of habitats for marine and coastal biodiversity, the implementation of European Directive (WFD and MSFD)
4. Strengthening collaboration among local, national and international institutions and key local stakeholders
Making Cities Resilient Campaign Activities
CORILA serves as the Venice's focal point for the "Making Cities Resilient" Campaign, providing support to the Municipality in all its Campaign activities:
1. The organization of the UNISDR Conference on " Building Cities Resilience to Disasters: Protecting Cultural Heritage and Adapting to Climate Change", held in Venice on 19-20 March 2012
2. The city to city exchange programme with the cities of Byblos and Dubrovinick
3. The coordination of a local partnership working on the initiatives and activities of the Campaign, involving relevant stakeholders from different disciplines and concerned Municipality offices
4. The reporting process to UNISDR about the achievements of the city on the ten essential
CORILA. Palazzo Franchetti. S. Marco 2847. 30124 Venezia Italy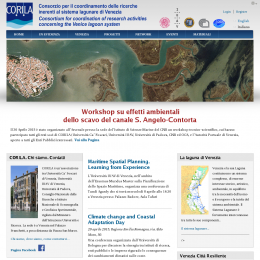 Badges