Mission
BCLC is a 501(c)3 affiliate of the U.S. Chamber of Commerce, the world's largest business federation. BCLC is the U.S. Chamber's resource and voice for businesses and their social and philanthropic interests.
BCLC's vision is for the positive role of business in society to be understood and advanced.
Its mission is to promote better business and society relations and improve long-term social and economic conditions by:
- Communicating the U.S. private sector's unique and valuable contributions
- Cultivating strategies and practices that achieve positive results
- Coordinating public-private partnerships and coalitions
BCLC works with leaders from the business, government, and nonprofit sectors to address and act on shared goals. Our overarching goal is to help build good will, good relations, and good markets by focusing on issues that affect businesses from a social and economic standpoint. This is what we call "business and society relations."
1615 H Street, NW 20062-2000 Washington, DC United States of America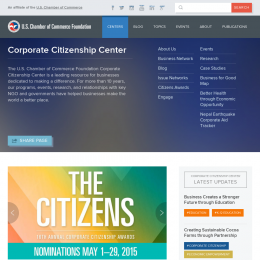 Badges