Mission
BBC Media Action (formerly BBC World Service Trust) is the BBC's international charity, using media and communications to reduce poverty and promote human rights, thereby enabling people to build better lives. The Trust aims to improve the health, security and wellbeing of individuals and communities caught in crisis situations, working before, during and after a crisis to reduce its impact on people's lives, and operate in partnership with relief operations, governments and international and national non-governmental organisations (NGOs).
BBC World Service Trust changed its name to BBC Media Action on 16th December 2011. The objects of the charity remain the same and it retains the same charity number and company registration number.
Disaster Reduction Goal
Our work aims to increase resilience and improve humanitarianr responses. In particular we aim to increase people's ability to secure food and water, improve their economic security and opportunities, reduced their risk to disaster, and increase their ability to survive and cope with humanitarian emergencies.
Other activities
Publications:
'Still left in the dark' http://www.bbc.co.uk/mediaaction/publicationsandpress/policy_still_left_in_the_dark.html
Africa Talks Climate http://www.bbc.co.uk/mediaaction/publicationsandpress/research_africa_talks_climate.html
Working Paper 1: Climate Asia
http://www.bbc.co.uk/mediaaction/publicationsandpress/working_paper_climate_asia.html
Ibex House, 42-47 Minories EC3N 1DY London United Kingdom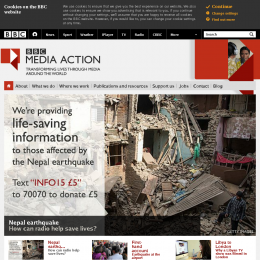 Badges
Conferences:

- AMCDRR 2016
- 2017 Global Platform