Mission
The main goal of the Platform is to convene community leaders and innovators to advocate for policies and programs that advance pro-poor, climate resilient development. The three main objectives for advancing this goal are:
a. Aggregating community-led practices and disseminating policy insights from these.
b. Enhancing community and other stakeholder capacities to undertake and scale up resilience practices as well as to initiate partnerships for resilient development.
c. Advocating for strategic shift in investments, programs and policies that formally recognize and resource pro –poor community driven resilient development.
249 Manhattan Ave 11211 Brooklyn, New York United States of America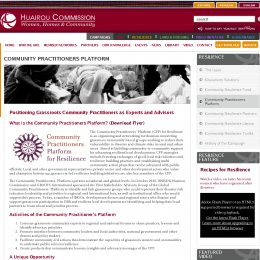 Badges