Mission
Oxford Policy Management enables strategic decision-makers to evaluate and strengthen economic and social impacts through a unique combination of high-quality analysis and more than 30 years' practical experience in over 120 countries worldwide.
Disaster Reduction Goal
Supported by more than 140 specialists on three continents, we have the breadth and depth of expertise to address the range of issues required to develop effective and sustainable policy solutions for climate change and disaster-risk management. This expertise, which is underpinned by a strong commitment to capacity building, ranges from social and economic policy to public finance and management, political economy analysis and statistics. With offices in Bangladesh, India, Indonesia, Nepal, Pakistan, South Africa and the United Kingdom, we can provide our clients with rapid, local support and context-specific solutions.
Websites
http://www.opml.co.uk/issues/disaster-risk-management
http://www.opml.co.uk/issuescat/climate-change
Making disaster risk reduction a policy priority, institutional strengthening (HFA 1)
OPM has extensive experience in political economy analysis. The combination of understanding of the pressures on policy-makers and planners in developing countries, together with our technical expertise, makes us an ideal partner for governments and donors seeking to introduce disaster risk management approaches. As well as helping provide the comprehensive analysis of risk – using modelling and simulation techniques as well as bringing insights from around the globe, such as our recent study of governance and disaster risk reduction – we can also help design and implement pragmatic incentive programmes to support risk mitigation.
6 St Aldates Courtyard, 38 St Aldates OX1 1BN Oxford United Kingdom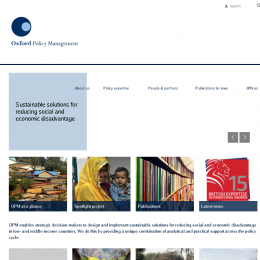 Badges
Conferences:

- AMCDRR 2016
- 2017 Global Platform
- 2019 Global Platform