Mission
NUST aimes to represent a Centre of Excellence for advanced scientific and technological education and research, to introduce state-of-the-art technologies in its academic programs and go beyond the traditional education through inculcating the spirit of innovation, creativity and entrepreneurship for the promotion of a qualitative leap in our industrial capability, correlating the national needs, to emerge as a leader in higher education and research.
Disaster Reduction Goal
To promote capacity building regarding DRR, NUST is the pioneer University in Pakistan for having started a Post Graduate Program in Disaster Management.
Education, information and public awareness (HFA 3)
The main problem in Pakistan is that this country lacks the capacity to deal with disasters. By starting this program, the capacity building initiative has been taken. This is likley to encourage other academic institutions to start similar programs increasing the knowledge base required to create awareness among the masses in Pakistan.
Academicians need to be given more role in HFA2 because in countries like Pakistan, there is a need to create a knowledge base as a start,since no matter how badly a country is affected by disasters, unless and until their own local capacity is developed, INGOs and NGOs will not be able to solve their problems or address their issues in tackling disasters. In line with HFA priority 3, NUST has taken a step in this direction setting an example for other Institutions in Pakistan to follow suit.
Other activities
1st National Conference on Disaster Management was held on 12 Nov 14. Participation of large number of professionals and experts from all over the country is a testimony to the success of the conference
Making Cities Resilient Campaign Activities
One of the Faculty Member involved in Disaster Management Post Graduate Program , Dr. Naeem Shahzad attended the workshop titled " Developing Capacities for CAA and DRR in Asia Pacific Region" held under arrangements of UNITAR and GETI at Jeju, South Korea from 20-23 Oct 2014.
Disaster Risk Reduction Focal Point(s)
Dr. Naeem Shahzad
Websites
www.mce.nust.edu.pk
NUST Campus, H-12 Islamabad Pakistan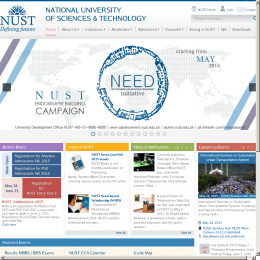 Badges
Conferences:

- 6th AMCDRR
- 2019 Global Platform