Mission
ACHNU was created in 1991 as a non-profit development organization. It is affiliated with the World Federation of United Nations Associations, and it has consultation status at the United Nations system and as formal representative before the Economic commission for Latin America and the Caribbean, CEPAL.
Policies and Programmes in DRR
In its challenge to contribute to the strengthening of civil society, it participates on a national level a network of NGOs working for children and youth rights, and also on the Chilean humanitarian network, that gathers the organizations of the civil society that provides assistance on emergencies. It is a member of the Latin American Caucus of Childhood NGOs , and it is a member of the ECPAT network, working against sexual exploitation of children and youth.
Education, information and public awareness (HFA 3)
ACHNU is the National Coordination Organisation for the worldwide initiative Views from the frontline. Implementing a survey to follow up the advances in the Hyogo priorities in Chile.
Disaster Risk Reduction Focal Point(s)
María Verónica Bastías- mavebastias@achnu.cl
Eduardo Pando - eduardopando@achnu.cl
Brown Norte N° 379 Ñuñoa 7790717 Santiago Chile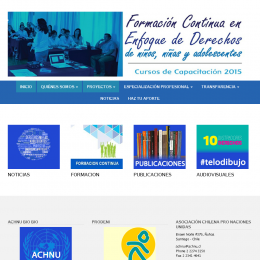 Badges
Conferences:

- 2019 Global Platform