Mission
The mission of the SPC is "to help Pacific island people position themselves to respond effectively to the challenges they face and make informed decisions about their future and the future they wish to leave for the generations that follow."
The goal of the Applied Geoscience and Technology Division (SOPAC) is to apply geoscience and technology to realise new opportunities for improving the livelihoods of Pacific communities.
To fulfill this, the division has three technical work programmes:
• Ocean and Islands
• Water and Sanitation
• Disaster Reduction
Disaster Reduction Goal
Disaster Reduction Programme (DRP) - Goal
Mandated to coordinate DRM in the Pacific, provides Members with technical and policy advice and support to strengthen disaster risk management practices. The programme carries out this responsibility in coordination and collaboration with other technical programme areas within the Division and also with a range of regional and international development partners and donors.
Ocean and Islands Programme (OIP) - Goal
Improve the technical knowledge of Ocean and Islands ecosystem for the sustainable management of natural resources, provide applied ocean, island and coastal Geoscience services to support countries to govern and develop their natural resources, increase their resilience to hazards and facilities data based approaches to adaptation.
Water and Sanitation Programme - Goal
Mandated to coordinate water and sanitation in the Pacific, provides technical support through capacity building, awareness and advocacy related to the management of water resources and the provision of water supply and sanitation services, through three components: Water Resources Management; Water and Sanitation Services; and Water Governance.
Policies and Programmes in DRR
The overarching policy guidance of SOAPC's Disaster Reduction Programme (DRP) is the Pacific Disaster Risk Reduction and Disaster Management Framework for Action 2005–2015 which supports and advocates for the building of safer and more resilient communities to disasters. The Regional Disaster Risk Management Framework was approved by Pacific leaders in 2005 (Download http://www.pacificdisaster.net/pdnadmin/data/original/mr0613.pdf). It is linked to the global Hyogo Framework for Action 2005–2015 which was endorsed by World leaders following the Second World Conference on Disaster Reduction in January 2005.
There are other regional policy instruments that help to guide the efforts of the DRP such as the Pacific Plan (Download http://www.forumsec.org.fj/resources/uploads/attachments/documents/Pacific_Plan_Nov_2007_version.pdf) and the Pacific Islands Framework for Action on Climate Change 2006 – 2015 (Download http://www.pacificdisaster.net/pdnadmin/data/original/SPREP_2006_PIFACC_001.pdf) .
Below are stated some of SOPAC's Disaster Reductions Programme thematic areas.
• Mainstreaming Disaster Risk Reduction and Climate Change Adaptation
• Regional and national Disaster Risk Management coordination and planning
• Community Level Disaster Risk Management
• Institutional Strengthening, Training and Capacity Building within Key National Agencies
• Information Management for Disaster Risk Managament
• Baseline Data and Information
• Scientific and Technical Assessments
• End to End Early Warning Systems
Membership in Key Networks
Pacific Disaster Risk Management Partnership Network (PDRMPN) and IAP (ISDR Asia Partnership).
A key member of this Network is SPC which provides an opportunity for the DRP to expand the imprint of natural hazard disaster risk management more meaningfully beyond national level within Members to sectoral level.
A significant step is the recent establishment of formal links with Caribbean countries and organisations including the Caribbean Disaster Emergency Response Agency, University of the West Indies, and the Caribbean Community Climate Change Center.
Further progress is being made through partnerships being strengthened with the World Bank's Global Facility for Disaster Reduction and Recovery, the UNDRR, European Union and ACP Secretariat, AusAID and NZAid.
Making disaster risk reduction a policy priority, institutional strengthening (HFA 1)
For reference to all activities in all HFA Priorities (1 - 5) please see the Regional Synthesis Progress Report, Report Period 2007-2009 (Download http://www.pacificdisaster.net/pdnadmin/data/original/SOPAC_Regional_SynthesisProgressReport_final2007_09.pdf).
The Regional Synthesis Progress Report for the period 2009-2011 is currently drafted.
Disaster Risk Reduction Focal Point(s)
Mosese Sikivou
Deputy Director Disaster Reduction Programme
E-mail: mosese@sopac.org
Websites
http://www.spc.int
http://www.sopac.org
http://www.pacificdisaster.net
http://www.drrprojects.net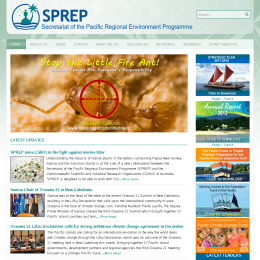 Badges