Mission
RedR Australia is an humanitarian organization whose mission is to build resilience and relieve suffering in times of international humanitarian crisis.
All RedR Australia humanitarian training is undertaken with intent to mitigate the impact of disasters and emergencies. Mitigation of impact is a component of disaster risk reduction.
Disaster Reduction Goal
- To mitigate the impact of disasters and emergencies and to increase localisation of humanitarian aid by building the capacity of local emergency responders.
Policies and Programmes in DRR
- We relieve suffering in disasters by selecting, training and providing competent and effective humanitarian workers to support disaster risk reduction and emergency response work of humanitarian relief agencies worldwide.
- We provide essential humanitarian training to staff of government agencies and departments, local and international INGOs, United Nations agencies and others interested in working in the humanitarian sector.
- Our training includes Personal Safety, Security and Communications; the Essentials of Humanitarian Practice; Water, Sanitation and Hygiene in Emergencies; Humanitarian Logistics in Emergencies; Critical Incident Response training, Child Protection in Emergencies and customised training.
Membership in Key Networks
- RedR International
- Australia Council for International Aid
- International Standby Partner to 10 United Nations agencies or entities.
- Global Compact Network
- Sphere Focal Point for Australia
Websites
https://www.redr.org.au
55-61 Barry St Carlton VIC 3053 Australia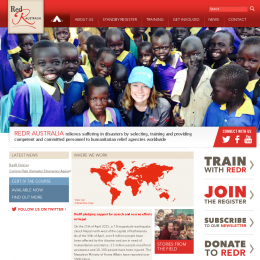 Badges