Mission
UKTI works with UK-based businesses to ensure their success in international markets, and encourages the best overseas companies to look to the UK as their global partner of choice.
UKTI's aims & objectives objectives are to:
- Deliver measurable improvement in the business performance of UK Trade & Investment's international trade customers, with an emphasis on innovative and R&D active firms.
- Increase the contribution of foreign direct investment to knowledge intensive economic activity in the UK, including R&D.
- Deliver a measurable improvement in the reputation of the UK in leading overseas markets as the international business partner of choice.
1 Victoria Street SW1H 0ET London United Kingdom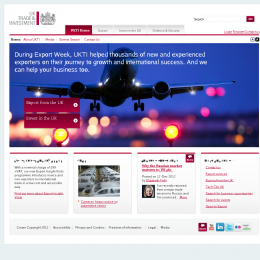 Badges