Mission
The Federal Office of Civil Protection and Disaster Assistance (BBK) was established on 1st May 2004 within the remit of the Federal Ministry of the Interior of Germany.
The work of the Office includes carrying out the tasks of the Federation with regard to:
- civil protection ( in particular health-protection measures, protection of cultural property, emergency drinking water supplies),
- planning and preparation of measures to provide emergency supplies and carry out emergency planning
- planning and support of the cooperation between the Federation and the Länder (German federal states) with regard to special hazards (coordination of crisis management),
- preparing national risk analyses,hazard cadastres and emergency planning supporting civil-military cooperation,
- providing conceptual support for the protection of critical infrastructures,
- providing national information and supporting communication and resource management in case of disaster,
- providing coordination of technical-
scientific research with regard to civil protection and protection against weapons of mass destruction, in particular research into ABC hazards.
- supporting the development of frame- work concepts for disaster medicine.
- planning/conceptual work for alerting and informing the population, enhancing citizens' ability to help themselves,
- promoting international cooperation and capacitty building in the field of civil protection and DRM
- basic and further training, and training in civil protection and disaster relief, disaster medicine.
At its Academy for Crisis Management, Emergency Planning and Civil Protection (AKNZ), BBK trains decision makers and personnel from all administrative levels as well as relief organisation in all aspects of crisis and disaster management, civil protection and humanitarian assistance. The AKNZ has been engaged in national and international table top and full scale exercises as well as in training courses for the EU Community Mechanism .
BBK also supports the Länder (German federal states) with conceptual work in several field such as the area of critical infrastructure and DRM carrying out research studies, concepts and guidelines in close cooperation with stakeholders in private industry and public sector.
With the Joint Information and Situation Centre of the Federal Government and the States, the Office disposes of the national contact point for international assistance mechanisms and coordinates exchange of information on resources and assistance with national and international partners and organisations.
Provinzialstraße 93 53127 Bonn Germany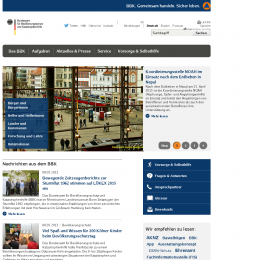 Badges
Conferences:

- 2018 EFDRR