Mission
A centre in the university offering a masters program in disaster management. It also offers training in short courses and does cosultancy on DRR isuues.
Its mission is:
- To provide educational means for Disaster Management practitioners;
- In the holistic multi-disciplinary approach towards disaster risk management
- With a focus on disaster risk management, to become the leading research centre supplying answers to Africa's disaster and disaster risk reduction challenges
- To actively support government and the private sector with advice regarding disaster and disaster risk issues.
University of the Free State, 205 Nelson Mandela Drive, P.O. Box 339 9300 Bloemfontein South Africa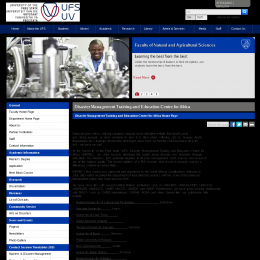 Badges