Mission
The Academy of Sciences Malaysia was established by an Act of Parliament (ASM Act 1994). The Academy strives:
To be the 'think tank' of the nation for matters related to science, engineering, technology and innovation.
To pursue excellence in the fields of science, engineering and technology for the benefit of all.
The Academy also seeks to become an Apex Advisory Body on STI (science, technology and innovation) matters, effectively promote public understanding and awareness of STI, and ensure that STI becomes a basis for economic development and societal well-being.
Level 20, West Wing, MATRADE Tower, Jalan Sultan Haji Ahmad Shah 50480 Kuala Lumpur Malaysia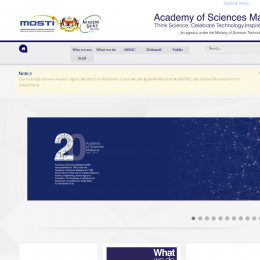 Badges