Mission
The DEA's mission is to create a prosperous and equitable society that lives in harmony with our environment
Strategic objectives:
- To protect, conserve and enhance our environment, natural and heritage assets and resources.
- Proactively plan, manage and prevent pollution and environmental degradation to ensure a sustainable and healthy environment .
- Provide leadership on climate change adaptation and mitigation.
- Contribute to sustainable development, livelihood, green and inclusive economic growth through facilitating skills development and employment creation
- Contribute to a better Africa and a better world by advancing national environmental interests through a global sustainable development agenda.
315 Pretorius street, cnr Pretorius & van der Walt Streets, Fedsure Forum Building, North Tower 0001 Pretoria South Africa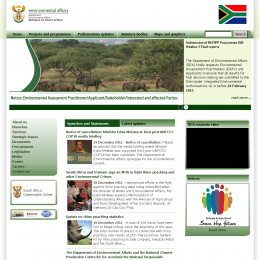 Badges
Conferences:

- 2017 Global Platform