Mission
To play a lead role in the efficient and sustainable use, development and management of water and environmental resources for the alleviation of poverty and improving of livelihoods across the world
Disaster Reduction Goal
Using collaborative research approach to tackle issues of disaster awareness, monitoring and management.
Making disaster risk reduction a policy priority, institutional strengthening (HFA 1)
Long-term mapping of irrigation schemes and performance with the aim of developing a framework for Government for the efficient utilization of small reservoirs for food production.
Risk assessment and early warning systems (HFA 2)
Develop of decision support system for near-real time monitoring of drought and flood
Education, information and public awareness (HFA 3)
Educating vulnerable communities in Northern Ghana on the importance of the environment changes and how to build coping strategies for adaptation
Reducing underlying risk factors (HFA 4)
Developing and building the capacity of vulnerable communities through awareness and reliable use of scarce irrigation water resources can enhance community ability to reduce hunger and poverty challenges.
Preparedness for effective response (HFA 5)
The integrated mapping and educational programme for small scale farmers and development of early warning systems for communities help communities and researchers to learn the best options for preparing for associated environmental risks.
Other activities
Education of the Youth in Africa through Ecoyouth Africa Series of Conference. Next conference will be organised in Ghana in August 2014. The first conference was successfully organised in August 2011. More details will be made available soon at http://www.ecoyouthafrica.org
Making Cities Resilient Campaign Activities
Building the capacity of young people to realize the importance of urbanization and population growth through the Ecoyouth Africa Conference Series.
Disaster Risk Reduction Focal Point(s)
Education, Monitoring and Evaluation of Small Medium Scale Irrigation Schemes in Ghana
Education, Monitoring and Evaluation of Vulnerable Communities against disasters such as flooding and drought
Websites
http://www.greenwaterhut.org
P.O. Box UP913 Kumasi, Ashanti Region Ghana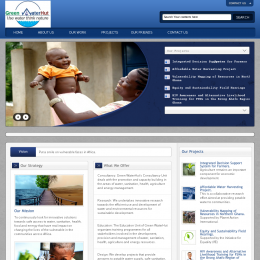 Badges