Mission
The European Topic Centre on Air Pollution and Climate Change Mitigation (ETC/ACM) is the successor of the former (2001 – 2010) European Topic Centre on Air and Climate Change (ETC/ACC).
As of January 1. 2011, the ETC/ACM, a consortium consisting of 12 European institutes, builds on the experience gained by the former ETC, with a narrowed scope on climate change mitigation. The area of climate change impacts, vulnerability and adaptation is included in the new self standing ETC on Climate Change Adaptation (ETC/CCA).
The main task of ETC/ACM is to assist EEA in supporting EU environmental policy and legislative frameworks and to allow for adequate responses to emerging needs. Such support involves improving the reporting of monitoring and inventory data, information dissemination, and integrated assessments. To this end, ETC/ACM analyses in a balanced way the causality chain of environmental policy making: Driving forces, Pressures, State, Impacts and Responses (DPSIR).
Antonie van Leeuwenhoeklaan 9 (premises of the RIVM) 3721 MA Bilthoven Netherlands, the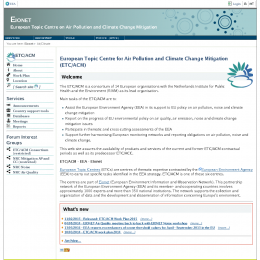 Badges