Mission
CCEP is a Canadian not-for-profit organization devoted to the promotion of disaster management to individuals, communities and organizations, in both government and the private sector, with the aim of reducing the risk, impact and cost of natural, human-induced and technological disasters.
CCEP's objectives are to raise awareness of the increasing risks of disasters, promote the need for sound disaster management practices and disseminate information on the availability of professional expertise and resources, including technology.
CCEP will achieve its mission through the promotion of the following:
Disaster Management Principles & Practices
Methodologies (e.g. Incident Command System, Ten Professional Practices for Business Continuity)
Programs (e.g. Partnerships for Safer Communities, Community Emergency Response Teams).
Education & Training
Recognized public and private institutions that provide post secondary and post graduate courses in disaster management and business continuity (e.g. Universities/Colleges, Government and private sector training institutions).
Career Development
Advice to those interested in pursuing a career in disaster management
Promotion of professional certification bodies (e.g. IAEM, DRII, BCI).
Research Results
Participating in disaster management research
Disseminating results of research
Providing opportunities for disaster researchers and disaster management practitioners to come together
Maintaining a register of researchers
Services & Products
Maintaining a knowledge base of services and products including a register of vendors
Development of a library of planning tools and templates
Other activities
Assisting small businesses and non profit organizations in developing & maintaining organizational resiliency plans
Websites
http://www.ccep.ca
860 Harrington Court, Suite 210 L7N 3N4 Burlington-Ontario Canada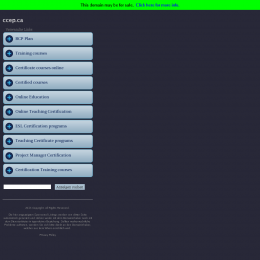 Badges