Mission
ACCRA is a consortium made up of Oxfam GB, the Overseas Development Institute (ODI), Save the Children Alliance, Care International and World Vision International and funded by DFID. ACCRA aims to increase governments' and development actors' use of evidence in designing and implementing both humanitarian and development interventions that increase poor and vulnerable communities' adaptive capacity.
Disaster Reduction Goal
. ACCRA has four key objectives:
1. To understand how existing social protection, livelihoods and disaster risk reduction projects by ACCRA members build adaptive capacity to climate change in beneficiaries, and how these approaches can be strengthened.
2. To use the findings to influence donors, development partners and civil society to improve future planning/action.
3. To work together with local and national governments to build capacity to implement interventions which can build communities' adaptive capacity.
4. To encourage learning across countries and disciplines.
Disaster Reduction Focal Point(s)
jlofthouse@oxfam.org.uk
chanderson@oxfam.org.uk
L.Baker@savethechildren.org.uk
Websites
http://community.eldis.org/accra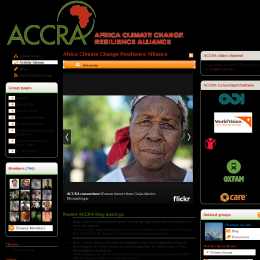 Badges