Mission
The United Nations Human Settlements Programme, UN-HABITAT, is the United Nations agency for human settlements. It is mandated by the UN General Assembly to promote socially and environmentally sustainable towns and cities with the goal of providing adequate shelter for all. The main documents outlining the mandate of the organization are the Vancouver Declaration on Human Settlements, Habitat Agenda, Istanbul Declaration on Human Settlements, the Declaration on Cities and Other Human Settlements in the New Millennium, and Resolution 56/206.
Disaster Reduction Goal
UN-HABITAT's main goals related to disaster risk reduction:
• Increasing investment in disaster risk reduction – integrating priorities from visible and short-term development projects with long term potential threats and risks;
• Addressing the root causes of disasters. Inadequate development practice increases the vulnerability of residents of communities, towns and cities; therefore, pre-disaster risk reduction needs to be integrated in all development planning;
• Making cities safer places to live by incorporating vulnerability reduction and disaster management into on-going national and local development and poverty reduction plans;
• Building a culture of prevention through a cross sectoral, multi-dimensional approach, integrating participatory analysis of risk, implementation of DRR programmes, and development of policy and legal frameworks with all stakeholders, including civil society, private sector, local, national and international government, in a gendered and comprehensive process.
Membership in Key Networks
• UNDRR Inter-Agency Group (IAG)
• Inter-Agency Standing Committee
• International Recovery Platform Steering Committee
• CATALYST: Capacity Development for Hazard Risk Reduction and Adaptation
National Counterpart
Local Authorities, Ministries of Housing, Urban Development, Land and Resettlement
Disaster Reduction Focal Point(s)
DRR Focal Point: Mr. Dan Lewis, Chief, Urban Risk Reduction Unit, Risk Reduction and Rehabilitation Branch (dan.lewis@unhabitat.org)
CC: Ms. Ansa Masaud, Human Settlements Officer, Risk Reduction and Rehabilitation Branch (ansa.masaud@unhabitat.org)
CC: Mr. Ko Takeuchi, Associate Expert Disaster Management, Risk Reduction and Rehabilitation Branch (ko.takeuchi@unhabitat.org)
CC: Mr. Esteban Leon, Chief, Shelter Rehabilitation Unit, Risk Reduction and Rehabilitation Branch, Geneva (esteban.leon@unhabitat.org)
Websites
http://www.disasterassessment.org, The Disaster Management Programme's specific site focusing on risk assessments
http://www.unhabitat.org/categories.asp?catid=286, UN-HABITAT "Risk and Disaster Management"
Making disaster risk reduction a policy priority, institutional strengthening (HFA 1)
View 2011 U-HABITAT DRR profile
The City Resilience Profiling Programme (CRPP) was launched in the Rio+20 Conference. UN-HABITAT has launched a call for expression of interest from cities to serve as pilot cities, where city resilience profiling will be tested and various tools to build resilience will be introduced.
(IASC) Transformative Agenda, UN-HABITAT has made progress with the intention to improve emergency preparedness and response in:
1) increasing institutional profile for UN-HABITAT's role in crisis response and city resilience; 2) developing operational programmes on DRR and emergency response and reconstruction; 3) improving urban emergency response through its urban advisory services; 4) training of its field and headquarter staff for emergency response; 5) establishing and utilizing its internal emergency response fund; and 6) new projects in Sri Lanka, Madagascar and Haiti in 2011, with vulnerability reduction measures for future disasters.
During the 2010 and 2011 Pakistan floods response, UN-HABITAT provided technical assistance by developing guidelines and standards for flood resistant housing for the shelter cluster and the Government.
In 2012, a new programme in Pakistan was launched in collaboration with the NDMA. The programme aims to establish sustainable, disaster resilient and safer cities and settlements in the disaster prone regions of the country.
In Myanmar, UN-HABITAT has been implementing a programme supported by Norway on strengthening the resilience of coastal communities and settlements at risk from climate change and disasters.
Risk assessment and early warning systems (HFA 2)
In Rwanda, UN-HABITAT supported seven district authorities to analyse their resilience to natural hazards using LGSAT, and in Pakistan, UN-Habitat facilitated 31 cities to register in the UNDRR Making Cities Resilient Campaign, implement the LGSAT, and mobilized resources to assist reconstruction from flood impacts during 2012.
Education, information and public awareness (HFA 3)
Beginning in 2010, and continuing through 2012 UN-HABITAT, together with UNDRR, developed a DRR training programme for Latin American local authorities. "Reducción de riesgos de desastres y promoción del desarrollo sostenible en los gobiernos locales" (Disaster Risk Reduction and the Promotion of Sustainable Development in Local Government) has been applied in five municipalities in Chile, and is being adapted for use elsewhere in Latin America, and in Southern Africa.
Reducing underlying risk factors (HFA 4)
In November 2012, UN-HABITAT participated in the strategic planning for the post-2015 revisions to the HFA which will include a strong role for cities in contributing to national disaster management planning.
Preparedness for effective response (HFA 5)
UN-HABITAT provided support to Mozambique on the preparation of a flood response plan.
UN Complex Office, P.O. Box 30030 00100 Nairobi Kenya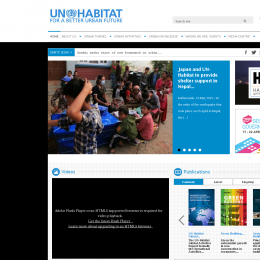 Badges
Conferences:

- 5th AFRP
- High Level Forum
- 6th AFRP and 5th High-Level Meeting on DRR