Mission
DETRA-Africa is a Non Government/ Non-Profit/ Charitable, Training and Consulting Organization registered in Kenya to work in Africa alongside grassroots communities to enhance development through implementing rural projects that fight poverty and disease, and enhance capacity development for youth and professionals. DETRA-Africa manages a number of projects in the region in three key programmes of a) Environment and Climate Change; b) Health and livelihoods improvement; c) Infrastructure and enterprise. DETRA-Africa also undertakes professional trainings for the public, and supports other organizations build own implementation capacity.
OUR AIM: To empower and strengthen local institutions and communities' capacity to eradicate poverty, hunger and disease.
OUR MISSION: To fight poverty and disease in Africa. We seek to network people, organizations and resources in Eastern Africa for sustainable development and work in partnership with community based groups and organizations in Eastern Africa assisting them acquire technical, human and financial resources from all parts of the world.
OUR OBJECTIVE AND LONG-TERM GOAL: Promote grassroots community development through building the capacity of local people in the area of Environment and Climate Change; Health and livelihoods improvement; Infrastructure and enterprise and through promotion of voluntary action.
Disaster Reduction Goal
We offer customized and annual trainings in CMDRR. We also undertake grassroots projects aimed at DRR in marginalized communities in Africa. Through experience gained from our field work, we offer training sessions for other NGO's and companies interested in DRR.
Policies and Programmes in DRR
DRR and Climate Risk Mitigation
Flood mitigation and control
Fire Risk
Membership in Key Networks
One World
UN-ECOSOC
PO Box 19844-00100 254 Nairobi Kenya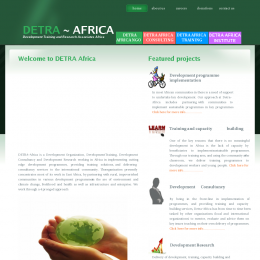 Badges