Mission
Doaba's Vision is "Disaster Prone communities becoming Self-reliant in pursuit of their common interests".
Doaba's mission is to improve the quality of life among rural and disaster prone communities. Its believes in achieving its goals through optimal utilisation of communities' own available resources: physical-biological, moral and human. It seeks to build the capacity of such communities incorporating relief activities into development programmes.
Disaster Reduction Goal
The people of Indus river basin have self help capacity and are resilient to natural disasters in Pakistan.
Membership in Key Networks
Indus Consortium
Making disaster risk reduction a policy priority, institutional strengthening (HFA 1)
Promoting institutional arrangements at local, district, provincial and national level.
Risk assessment and early warning systems (HFA 2)
HVCAs and Risk assement are the key to provide bases for DRR programs.
Community based early warning and computer models are developed and replicated in Punjab-Pakistan.
Education, information and public awareness (HFA 3)
Public awareness for technical aspects of disasters, legal awareness and role of government departments etc through sessions, seminars, mock drillss and media work.
Reducing underlying risk factors (HFA 4)
Climate change adaptation and food security are programs integrated with DRR. Gender mainstreaming is common to all sectors.
Preparedness for effective response (HFA 5)
At community level and district level with the engagement of communities and government. Contingency planning and stock pilling at organisational level.
Disaster Risk Reduction Focal Point(s)
Javed Iqbal
Websites
http://www.doaba.org.pk
Doaba Foundation, House number 1, Street number 2, Bosan road Multan. Punjab Pakistan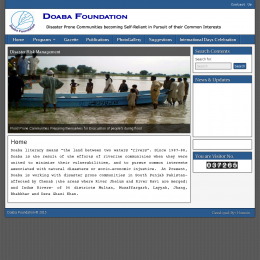 Badges