Mission
HelpAge Germany helps older people claim their rights, challenge discrimination and overcome poverty, so that they can lead dignified, secure, active and healthy lives.
We work to ensure that older people are included in immediate and long-term humanitarian relief and DRR efforts on the ground, and in humanitarian policies and guidelines.
Disaster Reduction Goal
To include older people in DRR activities and recognize them as active and important stakeholders.
Membership in Key Networks
VENRO, Germany
Making disaster risk reduction a policy priority, institutional strengthening (HFA 1)
Support and train local stakeholders, especially older people, in order to strengthen their DRR capacities.
Risk assessment and early warning systems (HFA 2)
Include older people in risk assessment activities and the improvement of local warning systems.
Education, information and public awareness (HFA 3)
Educate and inform stakeholders like NGOs and local governments as well as the media and the public in general about the specific vulnerabilities and potentials of older people in emergencies and DRR.
Reducing underlying risk factors (HFA 4)
Strengthen the contributions of older people to reduce risk factors.
Preparedness for effective response (HFA 5)
Include older people in all types of preparedness activities as contributing actors but also with there specific needs and vulnerabilities.
Websites
http://www.helpage.de
Alte Synagogenstraße 2 D-49078 Osnabrück Germany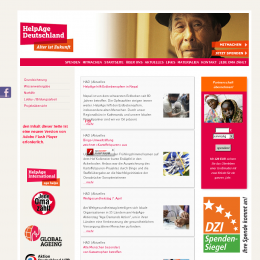 Badges