Mission
MALTESER INTERNATIONAL - FOR A LIFE IN HEALTH AND DIGNITY
Malteser International is the worldwide relief agency of the Sovereign Order of Malta for humanitarian aid. The German-based non-governmental organization has regional branches in Europe (Cologne/Germany) and America (Miami, USA). With over 100 projects annually in more than 20 countries in Africa, Asia and the Americas, Malteser International provides emergency relief after disasters and supports recovery efforts with a focus on sustainable development. For nearly 60 years, Malteser International has been standing by those in need - without distinction of religion, race or political persuasion. Christian values and the humanitarian principles of impartiality and independence are the foundation of its work. The agency is committed to ensure high quality standards. Accountability and transparency are priorities of its agenda. Currently, 25 national associations and priories of the Order of Malta are members of Malteser International.
MALTESER INTERNATIONAL'S MISSION IS TO:
- provide relief to major emergencies in the world and implement reconstruction and rehabilitation measures with a community focus;
- establish and promote primary health care services and contribute to better health by providing nutrition related programmes;
- contribute to better health and dignified living conditions by providing access to drinking water, sanitation and hygiene (WASH);
- implement livelihood measures and social programmes to ensure the access of people to income security and reduce their vulnerability and poverty;
- establish and promote disaster risk reduction activities, especially on a community level.
Our mission is to support the vulnerable and marginalised to live a healthy life with dignity.
Further information: http://www.malteser-international.org
Disaster Reduction Goal
DRR is an integral part of humanitarian assistance, both in relief and recovery, as well as in long-term development initiatives. Be it by the reinforcement of houses against earthquakes and cyclones, by constructing flood safe emergency shelters or training village emergency teams and volunteers in the establishment of early warning systems, Malteser International includes DRR and mitigation components in many projects for people at risk. The focus is clearly on community-based disaster risk management (CBDRM) and risk reduction aiming to support and to strengthen local coping capacities and to reduce vulnerabilities of people at risk. - In 2012, Malteser International implemented DRR projects in Haiti, India, Indonesia, Japan, Myanmar, Nepal, Pakistan, the Philippines, Turkey and Vietnam.
Policies and Programmes in DRR
In 2012, Malteser International implemented DRR projects in Haiti, India, Indonesia, Japan, Myanmar, Nepal, Pakistan, the Philippines, Turkey and Vietnam:
http://www.malteser-international.org/en/home/where-we-help.html?cat=5
Project example:
QUANG-NAM PROVINCE/VIETNAM:
"NOTHING ABOUT US WITHOUT US": INCLUSIVE DISASTER RISK REDUCTION IN VIETNAM
SITUATION
Vietnam is one of the most disaster-prone countries in the world. People living coastal areas and along rivers are constantly endangered by typhoons and flooding. This situation poses a great danger to people with disabilities, since mobility constraints, the lack of access to information and their marginalisation in society make them especially vulnerable towareds natural hazards. - To include the needs and wishes of persons with disabilities and to integrate them in future disaster preparedness plans, they have to be involved directly in planning processes. Malteser International works with the population in 46 villages - about 20 per cent of the population are living with a disability - in three districts of Central Vietnam to enable a comprehensive and inclusive community-based disaster risk management.
GOAL
Strengthening of the disaster management capacities in flood- und storm-prone community with a special focus on people with disabilities and their families
MEASURES
- trainings in disaster risk reduction for members of disabled persons organisations, volunteers and people with disabilities and their families, who later on work as multipliers;
- training of community-based disaster risk reduction committees in early warning and inclusive evacuation;
- development of disaster preparedness and emergency plans by the disaster risk reduction committees and representatives of the people with disabilities and their families;
- training and equipment of search and rescue teams in every village;
- drills on early warning and evacuation with a priority evacuation of the most vulnerable population.
PROJECT DATA
Duration: since April 2012
Financing: German Federal Foreign Office, Malteser International
Contact:
Malteser International: Cordula Wasser
mailto:info(at)malteser-international.org
http://www.malteser-international.org
Membership in Key Networks
Inclusive DRR Network
People in Aid
VOICE
Websites
http://www.malteser-international.org
Kalker Hauptstrasse 22 - 24 51103 Cologne/Köln Germany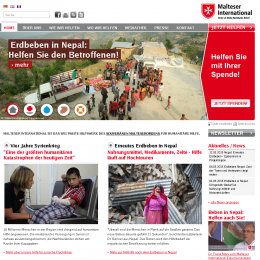 Badges
Conferences:

- 6th AMCDRR
- 2018 AMCDRR