Mission
The main objectives of CODATA Germany are the following:
* Networking of individuals and institutions in the widest sense for information, communication and cooperation on national as well as on international level.
* Elaborating strategic aims for development of scientific aspects of databases and information systems under special consideration of promoting dialogue between commerce, science and administration.
* Promoting knowledge exchange especially by organizing events dealing with the technical, scientific, administrative and organizational development on all fields that are relevant to scientific data and information systems.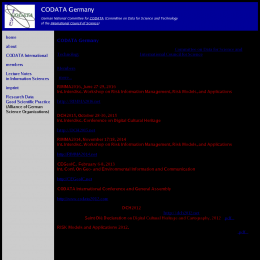 Badges