Mission
Wetlands International is a leading global non-profit organisation dedicated solely to the crucial work of wetland conservation and sustainable management. The mission is to sustain and restore wetlands, their resources and biodiversity for future generations through research, information exchange and conservation activities,worldwide.
Disaster Reduction Goal
We believe sustaining and restoring wetlands is a cost-effective strategy for disaster risk reduction and climate change adaptation, with strong benefits for poverty reduction and biodiversity conservation. To promote these ambitions, we aim to:
- Implement field level projects to work with communities on safer environment via wetland restoration.
- Develop and share our practical experience and knowledge on the role that specific wetlands play in mitigating water related extremes.
- Advocate to governments, development organisations and finance institutions to support wetland restoration and conservation.
Membership in Key Networks
Partners for Resilience (www.partnersforresilience.nl)
Websites
www.wetlands.org/drr
Calle Jacinto Palacion Cobos, Edificio 225 PB-C, Ciudad del Saber, Clayton, Ancon. 00100 Panama Panama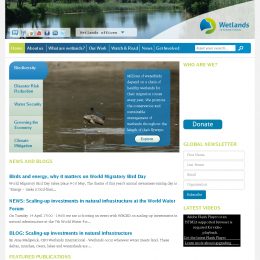 Badges
Conferences:

- 2017 Global Platform